Customer Reviews
Anonymous

United States
08/16/2021
excellent product
I purchased the seat back organizer and several complimentary items to go with it. It is super functional and looks terrific in my vehicle.
Loren S.

United States
08/04/2021
Excellent product!!
I love my GMT gear. It keeps everything organized behind the seat. I always know where an item is when I need it...or at least I did. Someone else liked my GMT gear more than I did so they broke into my truck and stole it all. Fortunately there were no firearms in the truck at the time.
Anonymous

United States
08/02/2021
Amazing products!
I recently ordered a gift for my boyfriend from this company and he was AMAZED! He was so happy and impressed with the quality. Will order again.
Christopher C.

United States
08/02/2021
Jeep XJ storage solution
Very easy to use and very durable so far
David H.

United States
07/31/2021
I love it!
So I wanna talk a little about this and why it fits some one like myself. I have 4 bags that I use this with. A Maxpedition Kodiak, a Maxpedition Monsoon, a Maxpedition Jumpbo versipack and a Kelty large Redwing 50. They all have a pocket that fits this 8x6 RMP. I keep two pouches attached to it as they're the most commonly transferred between these packs and attaching them to the RMP keeps it rigid and easy to get in and out of my bags. I admit I'm one of those weirdos that when I find something that kinda fixes a complaint I have, I get excited and one issue I had were keeping my pouches oriented how I wanted and being able to transfer them quickly as I sometimes dont have the luxuory of time to slow down and get everything over. Each bag has a purpose, whether is my going to work, camping or having a day at the range. Less fuss and having something SOLID to attach them to that I can also use to pull them out and insert into another back in one shot is something I was very stoked to have access to. After attaching the pouches to the RMP it's kept everything oriented how I want it to be oriented within my bags for little weight and lots of added rigidity without having to fuss with these as much as I usually mess with them. I intend to get another larger one for the Kelty redwing and Kodiak bag to share as it would make moving things between them much faster and keep it rather well organized. Less worry about leaving something important behind insures I can keep critical items where they need to be and focus on going places. My bags are very nicely laid out and well organized. I have been using it in some rough conditions and put this to the test a few times and remarkably its held it without any signs of breaking down. I wanted to wait about a month of using it before filling this survey.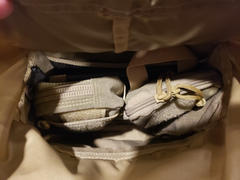 Net Orders Checkout
| | | | |
| --- | --- | --- | --- |
| | | Subtotal | $0.00 |
| | | Shipping | |
| | | Total | |
---
Shipping Address