Customer Reviews
Benjamin U.

United States
Justin T.

United States
04/13/2021
Important addition
Organization is key when in the field weather it be urban or other. Know where your gear is day or night and stay in the fight.
Anonymous

United States
04/06/2021
12.25 x 21vehicle seat back RMP
I ordered a blem due to it being in my price range, and honestly speaking I cannot see a single blem with my order ! I love my seat back rack it holds my rifle tight and secure and easy to get out when in a time of need. I am waiting on my magazine pouch to show up and my ifak kit to mount on it too, if you haven't purchased a GMT rack yet I highly recommend that you do you will not be disappointed!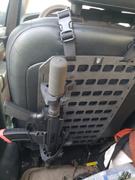 Tyler S.

United States
04/04/2021
Awesome product
Installation was super easy and final product was awesome! Kind of hard to find a general purpose to utilize this in the state of MD but it really helps me organize my Off Road gear in the truck! I got 2 RMP's, one for my rifle and the other side for my axe etc. Mounted in a 2019 Chevy Silverado 1500 Z71, double cab, new body.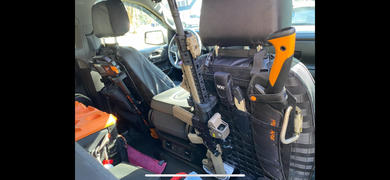 Justin P.

United States
03/29/2021
Top Notch
The product offered by GMT is one of the best, top notch products I have seen during my 18yrs of LE experience. This coupled with the reasonably priced options, makes it a MUST for any patriot and/or plain clothes, UC operator. As you can see all my gear fits great and I love the helmet rack. Hats off to GMT!