Customer Reviews
EM
Emil M.

United States
02/07/2022
Better Than Cheap Alternatives
Stoked on my GMT gear. I waited until I had it installed and used out in the desert before reviewing. The cheap alternatives on Am*z*n all have their various shortcomings. After having hands on this gear, made in the USA, I'm satisfied that it's worth the cost for quality. I like the D-ring attachment for seat-back installation. Works cleaner, and lower profile than wrap-around strap. Standard MOLLE configuration makes for easy, sure attachments. All the function, and it looks sharp too. Good job GMT.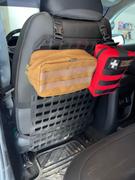 James K.

United States
05/22/2021
No mess
My setup keeps everything locked down and in place. I use it for security work so its nice knowing when I grab for whatever I know exactly wjere it is. I have had it in multiple vehicles, Nissan murano, f-250 4 door, extended cab chevy, tahoe, IT WORKS PERFECTLY in all of them. I would recommend to everyone!!! :)
Anonymous

United States
02/06/2021
RMP Straps
Second Set, easy and fast to install. Keeps everything in place and makes it easy to get to what you need when you need it.
Anonymous

United States
01/09/2021
Heavy duty, great quality, timely shipping
Got it for my dad for Christmas to help keep his car organized and he loves it! It holds all of his bags along with his weapon if needed without taking up too much space. The price Definitely reflects the quality of the product and it performs well!
Rick R.

United States
06/28/2020
Great addition.
Makes the set up very easy to move from vehicle to vehicle as needed. Great addition.
Net Orders Checkout
| | | | |
| --- | --- | --- | --- |
| | | Subtotal | $0.00 |
| | | Shipping | |
| | | Total | |
---
Shipping Address