Customer Reviews
07/31/2023
Works great in a GORUCK Bullet
Thanks! Fit perfectly in the 15L and 16L GORUCK Bullets.
J.C. Siruno

United States
10/19/2022
Keeps stuff organized
I got the 10" x 16.25" RMP to put in my Eagle Industries 3-day assault pack. It allows me to attach my old barbell weights and distribute the load for doing ruck training instead of having all the weight settled at the bottom.
henry d.

United States
07/13/2022
PC carbine
Holds pc carbine in place perfectly, lllllboth in and out of the backpack
Anonymous

United States
07/12/2022
Fits the 15L GORUCK Bullet like a glove!
Excellent quality and much lighter than I was expecting. The 10x16.25 RMP isn't listed as recommended for the 15L Bullet but I found it to be a better fit than the ones that were listed on the site (think those may be for the 10L). Plus this one has a full 6 columns of MOLLE/PALS which allows for pouches that use 4 columns of webbing to be centered in the pack.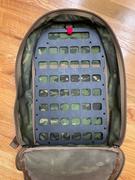 A A.

United States
07/07/2022
Fits in LL Bean Deluxe Book Pack
Some of us like a little more incognito look to everyday carry. I've had this LL Bean book bag for years and my Glock 26 rides in the back interior pocket. I saw these MOLLE panels with holster and thought maybe the pistol in a fixed location would be better. The 16.25 height fits nicely inside. Very pleased.
Net Orders Checkout
| | | | |
| --- | --- | --- | --- |
| | | Subtotal | $0.00 |
| | | Shipping | |
| | | Total | |
---
Shipping Address