Customer Reviews
Steven C.

United States
11/01/2023
Grey man tactical products
Products are of the highest quality , always perform as they say they will.
Ian P.

United States
09/12/2023
Quick Fist Small Buffer Tube
First- top shelf quality- That's Gray Man. Good heads up- I bought the rifle but stock attachment only to realize (my mistake) that a pistol brace (on a 300 Blk) is too big to fit. Easy solution -the small buffer tube quick fist is now mounted directly above the rifle cup. So now I can fit that or my AR10. You guys rock.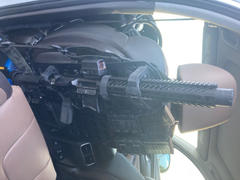 Anonymous

United States
Robert F.

United States
06/07/2023
Items were just what I needed
This review is for my whole setup. Pictures will be self explanatory as to the parts. I was looking for a set up to secure some rifles/shotguns in a 2 dr Jeep Wrangler. Space for anything is at a premium. These products fit my requirements right on. I use the jeep for off roading and camping pulling a small off road trailer and need room for dogs in the jeep. Recently took the whole setup on a very rough 4x4 trail loaded as the pictures will show. Held up very well without damage to seat or rack. Turned out to be exactly what I needed.
Anonymous

United States
03/13/2023
Nice, but Could be better
all the screws heads should match rather than some being philips and some being hex
Net Orders Checkout
| | | | |
| --- | --- | --- | --- |
| | | Subtotal | $0.00 |
| | | Shipping | |
| | | Total | |
---
Shipping Address