Customer Reviews
08/03/2022
Everything I hoped it would be
It's taken me a bit but I now have a workable set up. I use a 5.11 24 hour bag daily to carry my stuff with me regardless of which vehicle I'm in, the Grey Man panels give the bag structure and give me a way to carry a gun and magazine safely. The set up continues to evolve so I'm sure there will be future purchases.
David A.

United States
04/14/2020
Works exactly like I needed it to
My GMT panel works exactly like I need it to. I am a Shop Manager, Diesel Tech, Trailer Tech for a Transportation Company that handles mainly DOD freight. I managing 2 shops and work the floor as well. I can not carry on my person constantly but with my GMT panel in my Hailey Flat Pack, I can keep my gear near me at all times.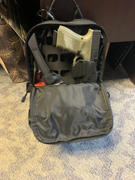 06/02/2018
Good purchase
I bought the pistol holster quick disconnect kit so I didn't have to buy another holster. I also purchased the aluminum backer plates for my RIP-M, that I use in a bookbag. To date, I was no happy with the way any other holster paired with the RIP-M. I would have had to drill through the panel or use straps to attach a holster and it didn't feel sturdy enough. When paired together, the quick disconnect and RIP-M are an amazing setup. I already had a Blackhawk holster for my EDC. Now I am able to switch from the holster to a bag when my pants aren't ideal for a holster. When the holster is attached to the RIP-M, it's secure, and it feels pretty sturdy. It doesn't have too much separation from the panel to make it bulky or anything but allows for my hand to get a good and proper grip on the pistol when drawing. When the holster is attached to the belt attachment it is still sturdy and doesn't feel any different. I am extremely happy with my purchase.
Net Orders Checkout
| | | | |
| --- | --- | --- | --- |
| | | Subtotal | $0.00 |
| | | Shipping | |
| | | Total | |
---
Shipping Address