Customer Reviews
Joseph H.

United States
Tim L.

United States
07/26/2021
Tim
The items I purchased work exactly as advertised. Easy to install and keeps my gear secure and available. I will be using more of your merchandise in future. Thank you for a quality product
Joel R.

United States
07/24/2021
Awesome piece of gear.
I work in a plain clothes assignment. Prior to getting the gray man Tactical vehicle Rifle rack - buttstock cup kit+ rubber clamp+ 15.25 X 25 RMP and the 6 in extension I had no way to secure my Benelli M4 shotgun. I now have a system that is secure and easily accessible when I need it. I mounted this to a Toyota Tacoma 2018 and it fits perfect. I would definitely recommend this product to anyone who is looking for something to securely attach their shotgun or rifle to. Awesome piece of gear I just wish I would've purchased it earlier.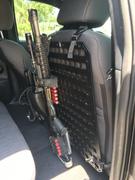 Anonymous

United States
06/04/2021
Awesome product
Very well crafted and very modular. You can practically mount anything, any way that you want on the rear seat rack.
David R.

United States
05/10/2021
Vehicle Rifle Rack - Buttstock Cup Kit + Rubber Clamp + 15.25 X 25 RMP™
This is a wonderful piece of equipment. it has taken me a week or so to get it arranged the way I want It, and I'm sure I will change it around from time to time. Now all of my gear is organized and easy to access. I would highly recommend this to any one who carries any kind of camping, emergency or survival gear with them.