Customer Reviews
Jeff E.

United States
08/03/2021
Helmet Rack. Great Product.
This helmet rack was just what I was looking for. Swift deployment. Convenient placement and secure. I applied a thick rubber coating to the top portion of the metal hook- this protects my helmet from any interior scratching or damage to padding. Thank you GMT for providing functional gear that works well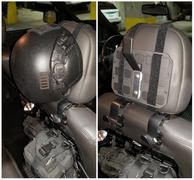 Sambath O.

United States
04/03/2021
Great way to have my tools at the ready.
The system is great to have when traveling with my family. With all the uncertainy these days with just traveling on our nation's highways, these is an innovative way to have quick and easy access to not only lethal means but also less-lethal means as well. Plus, lots of room for aftercare with an IFAK. I also purchased the heavy-duty plate carrier hanger and ballistic helmet rack to complete my mobile family shelter.
Anonymous

United States
Joseph B.

United States
12/13/2020
Molle Rack Kits
So far I am more than pleased with the sturdy Grey Man Tactical kits I have purchased. Love the very sturdy hard plastic frames that you can attach molle pouches to. Doesn't sag like the fabric versions that are sold out there although I have had some of those that I'm pleased with. Definitely a plus when hanging molle pouches that might carry items with some weight to them.
Elvis W.

United States
10/03/2020
Excellent Gear and practical
This gear is awesome for the man who rolls with a battle wagon and is constantly deploying his kit, I am constantly improving my "foxhole". I am always using this platform can't wait to order more stuff. The customer service is phenomenal when the parts wear out or need replacement the company backs it up and I receive my gear quickly thank you, Grey Man tactical!