Customer Reviews
Mudder T.

United States
03/12/2022
Under Truck Back Seat
I really wanted a solid rifle rack for under my flip up back seat in my '18 Silverado double cab. Couldn't find anybody doing it without using the straps which I didn't find too appealing. So I took the back seat out, removed the the bottom seat cover and cushion and put some 1/2" pine squares that I cut to fit between the seat frame and bottom of the cushion. I zip tied the wood to the frame to keep them from shifting (there ain't no way they're moving). I had to cut one small part of the cushion that molds into the frame so it would seat properly but other than that, there wasn't anything else I had to modify. Without lifting the seat up you would never know the rifle is down there, even the barrel of my full sized 16" rifle doesn't stick out from under the seat. Everything worked out better than I expected. At first I expected the weight of the rifle to cause the seat to not want to stay flipped up and fall back down on its own, but sure enough, it stays up without anything helping it. It definitely worked out better taking the whole seat out beforehand. Being I'm in Florida where you can't have your firearms easily accessible in your vehicle, it's definitely a pretty cool way to safely and inconspicuously secure my rifle while hitting the trails.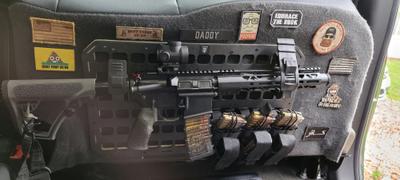 EM
Emil M.

United States
02/07/2022
Solid Gear; You Can Feel the Quality
Stoked on my GMT gear. I waited until I had it installed and used out in the desert before reviewing. The cheap alternatives on Am*z*n all have their various shortcomings. After having hands on this gear, made in the USA, I'm satisfied that it's worth the cost for quality. I like the D-ring attachment for seat-back installation. Works cleaner, and lower profile than wrap-around strap. Standard MOLLE configuration makes for easy, sure attachments. All the function, and it looks sharp too. Good job GMT.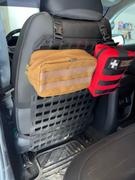 Anonymous

United States
01/03/2022
Back of seat vest carrier.
Excellent craftsmanship…works perfectly for my duty rifle and vest and keeps them in an easily accessible location…highly recommended!!
Wally

United States
Anonymous

United States
02/06/2021
RMP
Great Products as always!!! This is my 4th RMP. Great for backpacks and vehicles.
Net Orders Checkout
| | | | |
| --- | --- | --- | --- |
| | | Subtotal | $0.00 |
| | | Shipping | |
| | | Total | |
---
Shipping Address