Customer Reviews
Jasom T.

United States
01/24/2023
15.25 X 25 RMPX
The 15.25 X 25 RMPX is sturdy. It keeps all my gear secure and easily accessible. I bought one before and had to buy another for my driver's side.
Anonymous

United States
Anonymous

United States
01/14/2023
15.25 X 25 RMPX
This is a high quality product. Solid aluminum, very rigid. Just what I was looking for to mount in my Tundra. Med kit, tourniquet, fire extinguisher, mole pouch and room for a pistol brace or SBR. mounts easily with buckle and straps
Cathi A.

United States
10/09/2022
RMPX with buckle loop around+D-ring
Overall, the RMP is as expected, and of course no sag with all the bags loaded. However, I had to make some adjustments with the D-ring and length of buckle in order to secure it tighter to my 2021 Ram Rebel driver's. Somehow it was still too loose even after full tightening. I ended up not using their included D-rings and use my smaller version I had, which hugged the headrest stalks better. Length of RMPX is perfect, as well as the width of it. This is it all loaded up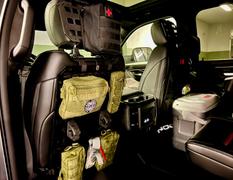 Pastor M.

United States
07/20/2022
Awesome Product--Amazing Company
The product works exactly as advertised. Easy to install and so easy to retrieve your weapon and yet it remains secure. There's also plenty of room on the plate for a med kit and extra mags. And when thieves broke into my truck and used a battery-powered grinder to cut my rifle out and steal it, Paul graciously replaced the plate and the lock mechanism as warranty replacements. You don't get customer service like that anywhere. Buy Grey Man Tactical products. They work as advertised, they are robust, and these folks take their obligation to their customers very seriously. You will not ever regret the purchase.
Net Orders Checkout
| | | | |
| --- | --- | --- | --- |
| | | Subtotal | $0.00 |
| | | Shipping | |
| | | Total | |
---
Shipping Address