Customer Reviews
Write a Review
Ask a Question
07/26/2020
Anonymous
United States
Molle
Exactly what I expected and is working out great.
07/12/2020
Anonymous
United States
04/28/2020
Michael M.
United States
Gun safe mod
Here's what I did with my gun safe. I wanted the AR15 and 870 where I could easily access them. I used one of the large molle pieces made for a Pelican case to hold the two long guns. You can see the metal buttstock cuffs at the bottom and the two large rubber clamps hold them in place. Orange tape around the releases. Then another molle piece above. They make awesome gear and are a pleasure to deal with! I'm still working on my truck and I have a couple of kayaks that will each have some Grayman molle in them soon.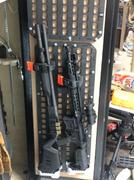 01/29/2020
Brian K.
United States
12/03/2019
Greg H.
United States
Organized, available, and out of the way
On the drivers side. This panel and the 25.75x13" to span the entire length of the bed. On the passenger side another one of these panels. Both hung on t-slot railing attached to the camper shell's internal frame. Thumbscrews and 3D printed filler plates allows the panel to be removed by hand if needed.
11/02/2019
Anonymous
United States
Pelican Case Molle panel for Police Department
We purchased 3 Pelican case panels to mount in our patrol vehicles for patrol rifles. The panels were very easy to install to our patrol vehicles and are even easier to use with the quick release straps. The hardware to install the panel worked very well on a steel wall. The 6 supplied screws and spacers are great however for a long panel like the Pelican case panel 8 screws per panel would have made the panel a little less flimsy in the middle. I highly recommend these products, the customer service is outstanding and we will be purchasing again for future vehicles.
09/19/2019
Ryan M.
United States
Professional Organization
If you are looking for a lightweight alternative to the pick-pluck foam your pelican case comes with but without all the bulk of the foam, take a close look at these panels. These panels are rigid, lightweight and are easy to customize (as you may notice in the picture I included with the cut-outs for the base of the case- Pelican 1700). The panels lay flush with the interior, which means you will have to get creative with mounting. Paul offers great options on his site and he will gladly provide advice if you ask but it will ultimately come down to the intention of use (ie, mission specific, load outs, etc) I prefer to use heavy duty Velcro for the ability of modularity. Here's my breakdown: Good: lightweight, rigid, precision cut, customizable Opportunity: price, mounting I have two more Pelican case: 1510 and 1750 and I will be adopting these panels for these as well.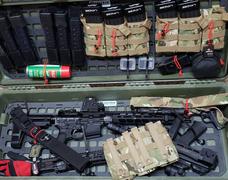 Patrol car modification
My law enforcement agency firearm tacticians understand vehicle CQB and the cover the vehicle can provide, so trunk carrying the rifle has been recommended, but no gear or policy has been in place for location yet. On top of that, keeping the rifle in an easily accessible spot, I often found my flashlight dead from all the other gear shifting around. I removed the stop sticks and mounted it to the trunk lid of my charger. I used your mounting hardware with the spacers, and they were the perfect size as long as I used the support mounts in the trunk, which give a stand-off from the actual lid. I mounted the stop sticks below, and rifle above with a slight overlap from the magazine. The Velcro straps are plenty strong enough to old it, but is not a good option for when you need to get your rifle in a hurry. I'll be looking at other options, but figured I'd try the cheapest thing first and adjust from there. They only problem I have with the product is the rigidity. The weight of the rifle, combined with lack of anchor points, cause the product to bend. Easy solution is the support backer, not a big deal to me. Everyone in my office loves the product and once we have a working prototype, plan on pitching it to the firearms department for funding to Troopers who wish to have this system.
06/01/2019
Montenegro, A.
G.M.T. MOLLE Rigid Insert Panel - Great Product
I have been looking for a MOLLE rack and I am glad to have found Grey Man Tactical. It fits nicely on the rear door panel of my FJ Cruiser and provides a strong a secure space to amount my outdoor gear. I highly recommended the Grey Man Tactical Rigid Insert MOLLE Panel.
Started with my weapons bag... will be back for more!
I got the 34.75"x13" panel for my Hazard4 Smuggler, and first of all, it's a perfect fit. I initially wanted to just add some rigidity and snug mounting for my rifle, but I was able to do so much more! I also purchased the Safarliand QLS QD kit and a pair of quick release straps. With all of these products, I am now able to carry my primary, secondary, and a full loadout for both weapons together (7th mag in another pocket). This is a fantastic product, well designed and crafted, and I look forward to using the other panels in my order for my aid bag. More to follow!
Great pannels for whatever you want to put it in/on
I have my greyman pannel mounted between the headrests of my 2017 Chevy Silverado. I have a Otac ifak, a medic kit and an extra softt-w tourniquet mounted front side. Backside is a 3M fullface respirator, a bearbutt hammock, some fire retardant gloves and a fire extinguisher. The molly gear was a little tricky to get attached but it is now exactly where i need it.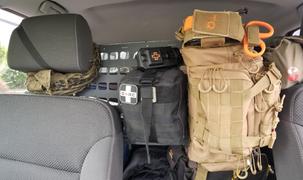 Awesome, genius product!
I love this thing! I bought the 13.75" x 34.75" and It fit perfectly in the back of my 2016 For Escape. I like to have my vehicle looking clean and neat on the outside, but carry the many tools I may need -- this MOLLE panel that I got from GreyManTac was the perfect solution to my needs! I was able to mount a 3-day bugout bag, IFAK, Trenching tool, Hatchet, BVM, and I still have space for more! I would definitely recommend any of their products and getting it to attach securely is not a problem! I simply strapped it to the back of my rear seat using the straps available from their site. They make a non-permanent option for those who alternate their setups or go through cars like clothes. :D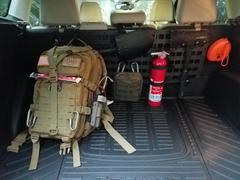 RIP M for pelican case 1700 mounts perfectly to a large roto pax fuel can
Rigid molle panel for pelican case 1700 mounts perfectly to the larger size rotopax fuel can with a few rubber feet and some velcro cinch straps works as an excellent hunting rig for gun scabbord binocular case and miscellaneous accesories when fuel can is mounted to atv others have commented on how nice it works out and copied my rig