Customer Reviews
Write a Review
Ask a Question
Keeps lock Box
I wanted to share a solution that many Jeep owners could perhaps use. If you're familiar with jeeps, there is little to no room for much of anything, more especially in a 2-door soft top. My solution was to install a Tuffy secure cargo enclosure in the rear of the Jeep. The Tuffy is secured by locking the rear gate. On the underside of the Tuffy lid I mounted one of your rigid MOLLE panels. I also used 1/4 nylon spacers between the MOLLE and lid. This solved a couple of issues, secured weapon, using underside of the Tuffy lid, also, I can exit my Jeep, make my way to the rear, ready access my weapon, and also have a better defensive location, having the swing out gate offering more cover and hopefully having the rest of the Jeep between me and any threat. -M. West Texas
Jeep lock Box
I wanted to share a solution that many Jeep owners could perhaps use. If you're familiar with jeeps, there is little to no room for much of anything, more especially in a 2-door soft top. My solution was to install a Tuffy secure cargo enclosure in the rear of the Jeep. The Tuffy is secured by locking the rear gate. On the underside of the Tuffy lid I mounted one of your rigid MOLLE panels. I also used 1/4 nylon spacers between the MOLLE and lid. This solved a couple of issues, secured weapon, using underside of the Tuffy lid, also, I can exit my Jeep, make my way to the rear, ready access my weapon, and also have a better defensive location, having the swing out gate offering more cover and hopefully having the rest of the Jeep between me and any threat. -M. West Texas
Excellent
Greyman tactical has been one of the best if not the best companies I have ever done business with. Their items ship fast as well as customer service is something that I feel that they pride themselves on as every question has been answered without hesitation and they have been very helpful with what panels would work best for my application. Every item I have received has surpassed my expectations. These panels have officially changed the game for interior vehicle storage.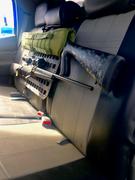 Exactly what I needed for a custom application
I wanted some stiff molle panels for the half doors on my Jeep. I stumbled upon GT in my search. I thought I was going to have to attempt to build my own makeshift panels out of random parts, but this panel was exactly what I needed. A couple of machine screws and some heavy duty velcro was all I needed to attached these panels to my aluminum trail doors. I'm still experimenting with gear - the possibilities are endless. Clearly I'm not in law enforcement or the military, but I could easily mount a holster for my concealed carry firearm on this to have it by my side in the Jeep, which will be perfect during deer hunting season. Thanks guys. Keep up the great work!
Excellent product and equally excellent service from this company
So far I cannot complain about a single thing. This RIP-M functions as advertised, was worth every penny and I can't wait to get about 3 more. Never mind the crooked mount job in one of the photos, it was just in the process of being adjusted. Next purchase will be the Rifle Mount Clamps. Then another 21.25 inch X 15 inch panel for my second vehicle (although it isn't entirely necessary just yet as this one that I have no is so easy to move from my FJ to my 4Runner with minimal adjustment). I am usually skeptical about the next craze in "tactical" gear, this is a piece of equipment that I believe has tremendous value and is highly practical
GreyMan Tactical in broadcast world
The panel it's perfect, feed all my need for my gear and most important allows me to customize which pouches and how I want them in my case. As a sound mixer for TV and live events some times I work under a lot of pressure (nothing comparable to our troops overseas) but having organization it's totally necessary. I definitely looking to upgrade more of my cases with the GreyMan panels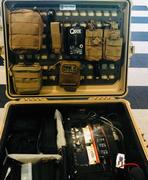 02/13/2018
JWTacticalLeatherwork
Excellent system!
Love this system! It's turning heads at my department including administrators who are encouraging us to keep our rifles readily available in the front seat for quick response use. My firearm instructors are impressed and my Chief Is looking into your website. So fingers crossed that there are good things ahead for your business and my department!
High Quality with allot of attention to details
I received my order in a timely manner. pulling it out of the bag it came in it was obvious right away that it was extremely high quality and durable. upon closer examination i was able to see all of the small details that make this company so special. the edges where all clean, no burrs or sharp corners. it was super easy to mount to the back of my passenger seat. the way it is mounted from the front it is impossible to see any straps. Overall Great Product!!
Outstanding product
I needed a better way to organize equipment in the lid of a Pelican 1600 (several, actually), but the existing RIP-M's at the time would not fit. So I contacted Greyman and they readily agreed to produce a model for the Pelican 1600. I am still working on different pouch configurations, but the RIP-M will be able to accommodate any configuration I come up with and will allow me to easily change it in the future.