Customer Reviews
Write a Review
Ask a Question
10/07/2020
Anonymous
United States
Couldn't be more stoked
This thing is amazing! So glad to have such a great product
04/06/2020
Kurt
United States
Added storage for my Jeep
Storage in a Jeep is always an issue, particularly in a 2 door model. While it's intended for a case, the 21.25 x 13 Rigid Molle Panel combined with 1 inch webbing, buckles, and strap adjusters allowed me to add an easy to remove storage panel to the side roll bar. The panel is also large enough to fit one large and one small (or three small) 'hook and loop' backed pouches for easy packing and removal. The buckle configuration allows it to be facing into the Jeep or to the exterior. I only did one side as proof of concept, but I plan to get another for the other side.
Van Install
One of the reasons I turn the van into a panel van was to gain extra storage inside. One strategy is to use the new wall space to store flexible stuff sacks and items that can be fastened to the panels. I modified my wood templates and the fabricated replacements using the same black plastic material that Werksberg uses. These black plastic panels will be covered with fabric. Then i fitted some standard sized plastic rigid molle panels from https://greyman-tactical.com. Molle panels can be fabric webbing, aluminum or plastic. They are modular and can accept soft bags as well as rigid inserts. Items are attached with special military style molle straps. The RIP-M panels are fastened to the steel van walls and welded in backer plates using nutserts. I hope to do same with the rear hatch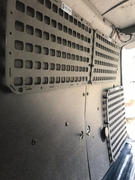 09/25/2019
Anonymous
United States
Many uses
Fantastic molle we are using to organize our medical equipment in our pelican boxes by mounting it on the lid. Just what we needed.
Practical
This product has amazing versatility and allows users to have complete oversight and adaptability to almost any environment. These panels also help with organizing my gear. I did have to make a small adjustment because I didn't pay attention to the horizontal/vertical orientation of the panel. But that's a minor detail that I was able work out, and will pay attention to in the future. Only downside is the price can really start adding up, and I'm constantly tinkering with my existing panels to avoid the cost of purchasing more. Which I eventually will simply because of their practical application.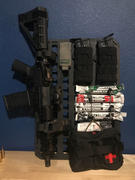 Review for Rigid MOLLE platform
Bought the platform to install on the back of my passenger seat in my personal vehicle (2008 Saturn Vue XR). Everything came as ordered and as shown. No issues with installing. Don't have much put on the platform as of right now except for the rifle mount that I also ordered through you guys; very nice mount. Plan to make lots of additions to the platform once I decide on what to add. Appreciated the hand written note that was on the receipt when I opened it up Christmas morning. Will definitely be showing this off at my unit and will continue to recommend this company and product.
Excellent
As advertised, this panel fits perfectly into the Pelican 1620 case via pre-drilled holes. This comes in very handy as an addition to my 1620 which is used for flight/pilot gear. I'll be recommending this to fellow aviators/crew chiefs.
Perfect product
Exactly what I was looking for. I have been looking for a product like this for some time, very well made and the molle hole spacing is spot on.