Customer Reviews
07/13/2022
PC carbine
Holds pc carbine in place perfectly, lllllboth in and out of the backpack
Anonymous

United States
07/12/2022
Fits the 15L GORUCK Bullet like a glove!
Excellent quality and much lighter than I was expecting. The 10x16.25 RMP isn't listed as recommended for the 15L Bullet but I found it to be a better fit than the ones that were listed on the site (think those may be for the 10L). Plus this one has a full 6 columns of MOLLE/PALS which allows for pouches that use 4 columns of webbing to be centered in the pack.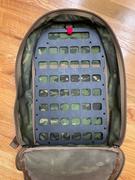 A A.

United States
07/07/2022
Fits in LL Bean Deluxe Book Pack
Some of us like a little more incognito look to everyday carry. I've had this LL Bean book bag for years and my Glock 26 rides in the back interior pocket. I saw these MOLLE panels with holster and thought maybe the pistol in a fixed location would be better. The 16.25 height fits nicely inside. Very pleased.
Anonymous

United States
06/25/2022
Must have accessory
I purchased the 10 x16.25 for my GoRuck Bullet 15l despite the recommended dimension on the fit guide. It fits perfectly and allows for the full 6 row molle attachments. This is a must have accessory to keep your gear organized and easy to reach. I purchased a big box competitor version that I thought would offer more flexibility for attachments but it was flimsy and poorly made. I quickly returned it and bought the Greyman RMP instead. Highly recommend, don't bother with the knock off versions.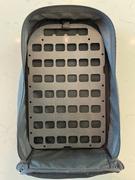 Anonymous

United States
01/09/2022
10 X 16.25 RMP
The (RMP 10" X 16.25") works well for backpacks or gym bags that have no internal frame and does well at keeping the main compartment clear of any loose objects by giving the option of attaching molle pouches or lashing your various items to the platform. It also makes for a good grab and go item for your most essential items such as med kits, mags or anything you might need, however preplan what you're going to be using this product for there is only so much room use it wisely; don't forget to use both sides as well it'd be a waste not to. I would recommend this product everyone has the need to use backpack or gym bag often it keeps things organized and tight. Suggestion: Take a look at there aluminum stiffeners or make your own will keep it from flexing even more
Net Orders Checkout
| | | | |
| --- | --- | --- | --- |
| | | Subtotal | $0.00 |
| | | Shipping | |
| | | Total | |
---
Shipping Address