Customer Reviews
Write a Review
Ask a Question
08/18/2020
Anonymous
United States
07/24/2020
Anonymous
United States
06/20/2020
Anonymous
United States
Seat mount
Maybe add an inch or two to the length of the pull handle. Other than that I love it. Especially after a trip to the range with my suppressor. I can leave it attached to my rifle and mount it behind my seat. I don't have to wait on it to cool off. Keeps the hot can from touching anything and that's awesome!!
05/04/2020
T A.
United States
Good, just an inch away from great.
Works well. Would have been nice if it was about an inch longer just to have a little extra on each side. Not much slack. So you either sacrifice space for your hand to fit in or get to the point that I am a little nervous it will slip out of the buckle. Hopefully the picture helps show what I mean.
03/03/2020
Douglas P.
United States
Back seat panel
Great piece of hard use gear...able to mount everything I need and even a lot of things I don't need but it's nice to have!
Have no fear! Your gear is now secure!
Pardoning the title, my purchase has immediately been put to use. I used my MOLLE panel to secure some items for my hiking/survival pack. Not only are the straps and handle durable, but they secure the gear so that it does not move around. Having this type of organization will certainly make my pack less cluttered. Great product!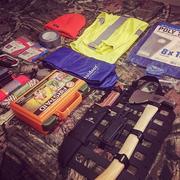 Great product
Great product! I carry an AR15 pistol, 1911 pistol, otis gun cleaning kit, and a bayonet. This is a very sturdy well built product that is gonna be with me for a lot of yrs. I've mounted ammo pouches, gun cleaning kits, pistol holster, bayonet, AR15 pistol, and more mounted on mine. I mount mine around the passenger headrest in my Avalanche. Extremely pleased with Greyman Tactical products and WILL be purchasing more.