Customer Reviews
Write a Review
Ask a Question
06/22/2020
Slone
United States
Tan buckles
Easy to use and well constructed.
The real deal
This is a simple but great idea. Bought 3, kept two and gave 1 to a good friend. Instantly turned my truck tactical, but I got to choose how because I got to build Molle to my needs rather than pre-config. Scabbard for a 590 shockwave, Med kit, admin pouch, pistol holster, mag holders in multiple sizes. If I want to re-config for a trip...easy to do.
05/21/2017
Christopher P.
Greyman tactical in Tundra
Describe your general use for the product? Having a handy spot for an ifak,tool kit for the truck and a chest rig that is easily accessible. Does the product feel sturdy/durable? It does. I did attach everything outside and it was warm here. 90 degrees or so. Seems to become more pliable in the heat. As soon as I put it in the truck became more rigid. I'm not concerned with heat, windows on the tundra are %5. With tool bag and chest rig. The product feels solid. I used some electrical tape on the glides to keep the webbing from slipping. What MOLLE brand gear have you successfully mounted? I have two Ifaks from Vanquest gear. Their med size pouch and lrg size pouch for my tools used some 6" molle straps from condor to mount. I also used some 1" buckle and strap to mount a haley strategic d3cr. Oh and a carabiner to hold my Peltor ear pro. What type/model Vehicle, Backpack, Pelican Case etc. have you mounted our panels to? I'm using this in a 2016 Tundra CrewMax 6 seater. Are you happy with your purchase? Extremely happy.
Grey Man Tactical
Awesome Products and great guys showing support
grey man tactical molly for my truck.
I am a firearms instuctor for my local police department. I needed something to keep my gear neat, organized and hidden. I was searching the web one day and found the grey man tactical website. I ordered the molle and all the straps for my pickups rear seat. When I received the product it was very well made. Everything fit perfect. I'm able to mount two ar-15's, med lot and my magazines 29th no problem Love this product and will be buying more.
Great product and service
Awesome product, has great civilian uses aswell. I use mine for my 4wd and camping gear. Works really well!
Poor retention, does not hold well
The retention system is very low quality it does not hold the frame well behind the seat of my truck. The plastic Molle keeps coming loose. I don't know how this carries heavy gear on a humvee when it could not even hold my rifle and a few items in place. Nice concept poor execution.
Worth every penny
I love this panel I use everyday it's great
Great product
Worked perfectly. Love it
Under seat MOLLE RIP
Between the customer service, fast shipping, and amazing product, 5 stars aren't enough to show how excellent Greyman Tactical is. I use it for general travel between states (that allow my firearms) or just long days being out and about. I have a 10" SBR, AR15 Magazine MOLLE pouch that holds 6 magazines as well as a Sig P226 Full size handgun and 2 MOLLE Handgun magazine pouches.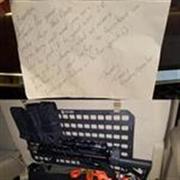 GREAT COMPANY
Impressed and very satisfied with their customer services as well as their items!!! Most definitely will be buying again!!
Tactical Panel for my Dodge 2500
I have had an over all positive experience. the straps are a little frustrating at times and maybe because of the way my seat is made, in my 2015 Ram 2500 crew cab. I would buy again I like the set up. I purchased the two Velcro straps to secure my rifle and should have both both of them longer instead of getting one short one that I figured to go around my barrel, well it works well on my 16" carbine but not so much for my SBR, but thats on me for poor planning. seems like a good product so far. I have also attached a medical kit and a condor 3 mag holder for my AR mags along with my rifle
Excellent product!!!
There's few product out there that does the same thing, BUT GreyMan Tactical nailed it! The RIP-M panel is sturdy enough to hold up weight without bending or warping. Mounting on back of the seat is solid, adjustments are easy to remove and adjust. Zero problems mounting gear, big enough spacing for easy install! Definitely recommend to others who are likely to carry med kits, spare mags, rifle, or just an easy putting to the range!
Never Going Back!!!
I love my panel from these guys! I carry all kinds of gear everyday like my SBR, 6 mags, my Glock 19 4 mags, and my med bag, there was always a problem trying to find the perfect place for it all in my Silverado. Well not anymore! It all fits safe and snug on my RIP-M panel! Perfect for every day carry. And with the mounting hardware it is very easy to take it in and out with the snap of two straps! And the customer service is incredible! Thank you to the grey man tactical group for the great product that I am proud to stand behind! My instagram name is Jarhead_2010!