Customer Reviews
11/20/2018
Excellent Product!
I had already tried a couple of other MOLLE panels from other brands and was just not completely satisfied. Once I saw the Greyman product I want to give it a try and I am glad I did! Extremely satisfied. I cover a lot of rough country and wanted something that could keep my gear secure and not be bouncing all over the truck or coming loose and this worked perfectly. I was able to mount it snug to the back of the seat so that I could still get crew members in the back seat without impeding much on their leg room. I am also a bit of an OCD type, so I did modify the mounting straps a bit so that there is almost no visible signs of them anywhere. We have not mounted the second unit yet, but looking forward to getting it installed and ordering some more for other units in the future. The first was installed on a 2016 Dodge Ram 2500 4x4 truck. The next will be in a 2016 Toyota Tundra 4x4.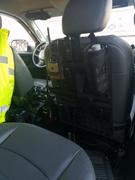 11/20/2017
Just what the doctor ordered
I've been using the rigid molle panel for a number of months now. I keep everything from survival gear to basic tools anyone should keep in their vehicle (ie... like a flashlight and a backup flashlight, medical supplies) and outdoor gear/clothing related to your driving conditions, and snacks. With all that gear and weight, the panel was bending and sagging. I installed two stiffeners to handle all it and now I cannot be any happier. The panel and all the equipment I have on it allows me to have peace of mind while out and keep everything nice and organized just like the doctor ordered. If you want to be squared away, high speed, or whatever you want to call it, the molle and the stiffeners to handle a lot of gear is a must.
Net Orders Checkout
| | | | |
| --- | --- | --- | --- |
| | | Subtotal | $0.00 |
| | | Shipping | |
| | | Total | |
---
Shipping Address