Customer Reviews
Paul T.

United States
10/29/2021
Awesome mounting clamps!
I'd been searching long & hard for easy to mount and use clamps to stage my AR15 in my vehicle's trunk. I learned about Grey Man Tactical from one of Jason Pike's YouTube videos, and I found these clamps on their website. They work PERFECTLY for my application! I installed the clamps on the undersurface of the trunk's privacy shield so the gun can't be seen from the outside. But open the trunk and flip up the cover and there's the gun!
Joe

United States
10/15/2021
Great stuff
Works great in my Jeep, Thanks!!
Michael F.

United States
08/20/2021
Gun Mount Works Great!!
I purchased the gun mounts for use in my cruiser at work (I'm an LEO). Due to limited space, one of your panels wasn't going to work. However, I was able to mount the rifle clamps directly to the cage, and they work great!! They are easy to open, yet still hold my rifle securely in place. I would absolutely recommend this product!!!!!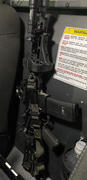 Anonymous

United States
Troy S.

United States
06/01/2021
Great Gear
Great service product performs much better that advertised