Customer Reviews
Hector A.

United States
Brian W.

United States
07/17/2021
2015 F150
This is a great set up! I'll have to get more, do to the fact that I have more stuff that I want to secure than space. Lucky I have two seats. Definitely recommend to everyone. Easy set up. Only thing stopping me from getting more is the all might dollar. That being said it's a great product for the price.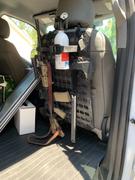 Anonymous

United States
06/11/2021
Great quality
Can always rely on quality products from Grey Man Tactical.
Anthony O.

United States
03/22/2021
Get one!
So far so good! Install is easy and it works great! Just ordered a second one
Jacob V.

United States
09/22/2020
Great product
I havent yet to install but fits rifle nicely will install in a new Chevy here soon