Customer Reviews
steven m.

United States
11/19/2021
Wired tight
Works as stated. Holds my K---e ABC w/2.4lb agent charge. I'm sure I could roll the truck and all my gear would still be in place. Well, attached to the front seat anyway. Have the same set up on my 4-wheeler. Roll that and the bets are off. As with all my purchases from GMT I am very pleased. And would recommend to anyone that I like. Steven
Anonymous

United States
11/03/2021
fast shipping and looks great
Hector A.

United States
Brian W.

United States
07/17/2021
2015 F150
This is a great set up! I'll have to get more, do to the fact that I have more stuff that I want to secure than space. Lucky I have two seats. Definitely recommend to everyone. Easy set up. Only thing stopping me from getting more is the all might dollar. That being said it's a great product for the price.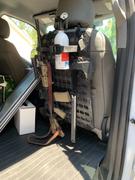 Anonymous

United States
06/11/2021
Great quality
Can always rely on quality products from Grey Man Tactical.

Liquid error: Could not find asset snippets/wholesale-now.liquid