Customer Reviews
08/28/2022
Dual lock fastener kits
I purchased two kits because I needed a strip on top and at the bottom. Directions were extremely easy. At first I honestly didn't think this would work. Since I tried epoxy and other "max strong" adhesives. To my surprise, WOW IT WORKED!
DAVID B.

United States
07/26/2022
Organized storage options for NV200
We own and utilize a slightly modified Nissan NV200 for traveling and camping with our 2 ORU BAY ST kayaks. Grey Man Tactical products offers the best products to utilize the small various locations to organize and store needed supplies. The Adhesive Backed-3M fastener kit enabled me to add secure storage space with the 10 x 14 RMP panel to the built in plastic "table/work space" in the rear of the front passenger space without any need of drilling into the seat. Utilized with the included primer the tape has held up without issue in high temperatures of +102 degree weather.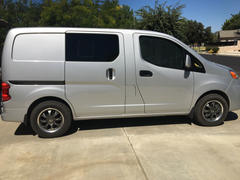 Anonymous

United States
12/02/2017
Adhesive is the Weak Point
The velcro itself is very strong, and it adheres to each other pretty well. The weak point is the adhesive. I shipped a pelican case in the mail with a MOLLE panel attached to the inside of the lid via the velcro. When the case arrived, the MOLLE panel had detached from the velcro tape, so the velcro tape was still attached to the lid, and the panel had fallen off. Still trying to find a better way to attach the panel.
12/11/2017
Grey Man Tactical
We are testing 3M Primer 94 liquid adhesive primer that can be wiped on prior to sticking the adhesive backed tape onto the panel or lid to promote a stronger bond. HDPE (Rigid MOLLE Panel) and Polyethylene (Pelican Case) are very difficult to get a good bond to because they are such slick materials. The 3M Primer 94 testing should be done soon and will be available for purchase on our site. In the meantime it can be found elsewhere on the web for purchase.
Net Orders Checkout
| | | | |
| --- | --- | --- | --- |
| | | Subtotal | $0.00 |
| | | Shipping | |
| | | Total | |
---
Shipping Address