Customer Reviews
Write a Review
Ask a Question
07/08/2020
Anonymous
United States
These Racks Are Excellent..
It's a simple yet genius design, I love it.. Wish I had these when I was deployed overseas. Thanks guys
06/23/2020
Lyle P.
United States
06/14/2020
Anonymous
United States
Modern Vehicle Gun Rack
This piece of equipment is amazing. I have used it to transport long guns for camping and shooting. Its been nice to have a secured designated spot if I am taking just 1 long gun.
05/19/2020
Irma R.
United States
Awesome product
My son has really enjoyed your product. He thinks he needs more of them. Thank you
05/19/2020
Slone
United States
Awesome gear
These products are great and durable. Will recommend these products to all my friends.
05/12/2020
Hayden K.
United States
05/07/2020
Lance I.
United States
04/21/2020
Matt
United States
Practical and Heavy Duty
I first reached out to them regarding the RMP system. Was quickly responded to my email and they made sure my questions were answered. I made my purchase online and it arrived within a few days of my order. The RMP panel is very sturdy. It hardly flexed when I pushed it down a bit to test its rigidity. This isn't going to break on you. I put in the work carbine, some G-Code pouches, and a G-Code RTI wheel. It's like tactical legos. It installed just like the video I watched and there was no slip once it was on the seat back. The front passenger wouldn't even notice the straps if they were to sit down there. Overall, I'm impressed with the build quality and how rugged it is. From the Quick Fist clamps to the RMP panel this will be able to go from car to car and last a long time. Thanks guys.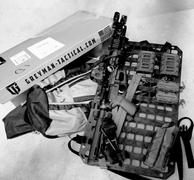 03/10/2020
patrick b.
United States
Great for any vehicle
It works well in my pov and duty vehicles quick to swap out, keep misc rescue/tacticool gear off of the floor and readily accessible. The rifle clamps work well for your service rifle or swap it out with long tools like short shovels or axes. I have a myriad of organization for tow straps,rescue tools, and a beefy IFAK. The frame is very simple, durable and probably will not fail in your lifetime.
03/08/2020
Warlan T.
United States
Quick access
Easy insulation and simplified my vehicle and cool factor is definitely there
03/04/2020
Anonymous
United States
Great Piece of Gear
I recently purchased the 15.25 x 25 RMP and mounted it to the back side of the front passenger seat in my 2014 Ford F-150. I am a Police Officer assigned to a plain clothes drug task force and this RMP from Greyman allows me to keep all my necessary gear organized and easily accessible. So far, I am very pleased with the fit and finish as well as the overall quality of the product. The price is a little steep but if it will last I am more than happy to pay for the peace of mind. I have not been able to find anything even comparable to the RMP. I purchased the package with the rubber clamps to mount my rifle. The clamps work pretty well but I don't think they are a necessity. There seem to be some other less expensive options for mounts even from Greyman. All in all, I'm very happy with the product and plan to purchase more items from Greyman Tactical in the future.
02/26/2020
Derek
United States
Quality and practicality
Having a perfect spot to put my gear regardless of the circumstance is made easier than it's ever been. I only needed to use a few molle attachments but there's more than enough room for more. Having the ability to detach as a whole unit and being able to carry without removing anything gear is also a extremely nice! Great product!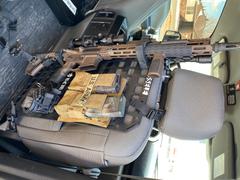 02/22/2020
MITCHELL R.
United States
Great Addition to the Truck
Plain and simple... GMT 15.25 X 25 RMP keeps everything needed for emergencies and quick response in one central location. All within reach of the driver, the GMT RMP was installed easily to the rear of the passenger seat. Several Nylon storage bags, TQ, Extinguisher and other small tools attached for quick, easy use. I would definitely recommend this product to others due to the versatility and ease associated with it. Great product.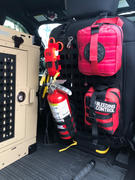 02/06/2020
Dennis M.
United States
The Ridged molle rack
Well to answer this perfectly . I am still configuring my set up . Lol i need more pouches . I have been using small bags and stow in my cargo area. Now my gear will be ready at moments notice . Saving me at least a minute grab time . I can move them vehicle to vehicle with ease in one system and not different bags.
02/05/2020
Vincent M.
United States
Vehicle rifle rack
The rack is awesome I haven't actually got to use it hence the 4 stars currently putting my ar15 together will be making a post to my IG with it I don't want it to be all alone will tag you guys as well