Customer Reviews
Anonymous

United States
05/30/2021
Shockloop
Superior quality!
Randall H.

United States
05/17/2021
Love this Company and Their Service
Great products. I will be making my third purchase in the near future.
Greg S.

United States
04/25/2021
Gear accessibility
I am using the RMP along with several of the Shockloops to mount gear in my Jeep. The RMP offers a lot of modularity and is sturdy. The Shockloops are great for mounting a variety of items, being adjustable and secure. Because this is my offroad rig, I am pleased to have easy access to my trauma kit, fire extinguisher, multitool and gloves.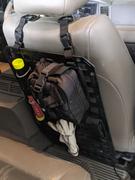 Kyle J.

United States
04/06/2021
Seat back panel
It's great. Got an ifak, full medkit, flashlight, hatchet, hoodie, knife and fire exstinguisher on it currently. Have another panel I'll put in place for a rifle and accessories, and only see more good things happening.
Edward V.

United States
03/29/2021
Shockloop
like it for keeping my power cords in place on my light stands and tripod. Plan to get the larger ones as well. Have a good day