Customer Reviews
04/06/2021
Seat back panel
It's great. Got an ifak, full medkit, flashlight, hatchet, hoodie, knife and fire exstinguisher on it currently. Have another panel I'll put in place for a rifle and accessories, and only see more good things happening.
Edward V.

United States
03/29/2021
Shockloop
like it for keeping my power cords in place on my light stands and tripod. Plan to get the larger ones as well. Have a good day
Daniel A.

United States
01/15/2021
Shockloop
Out of the package my first thought was how nice the quality was top-to-bottom. The elastic cord is no joke! I'm confident it'll hold some of my more medium weight gear. The pair I purchased is currently holding a flashlight to my molle rack. Easy to mount, easy to release!! Highly recommend this product.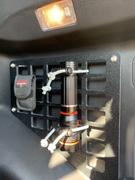 Robert W.

United States
11/24/2020
Great retention band
Great and easy to use shock loop on the RMP platform. I am using it to secure two different glove types. should work very well securing different types of gear.
Eric W.

United States