Customer Reviews
07/18/2022
Backpack RMP
Overall experience has been great. I took the time to measure my backpack and match that up with the correct RMP template and the fit is great. Kit was easy to install and I've added a molle pouch for medical supplies as well as a rigid pouch for an SOF tourniquet. You could probably fit a little more on there (already have double mag pouch and holster). Great product!
Anonymous

United States
07/16/2022
USABLE SETUP
The rack itself is really good as far as construction and space. Strapping something molle onto this system takes some creativity. Some spacing seems off as they cant be weaved back and forth, which leaves most items loose and floppy. I wouldnt secure this to the outside of anything but its fine for inside backpack storage. This system came with a universal holster, it seems fine for any pistol without extra sights or a light. Its near impossible to draw from without getting hung up. I would suggest foregoing the holster purchase and use that money on a kydex holster. Even with all the negatives, I still think this serves a purpose and I like it in my pack. I have it for a month and it has taken the shape of my backpack inside conforming to the contour of my back. I use this for my everyday carry backpack, a Kuiu Divide and I like it.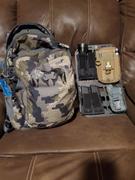 Cruz C.

United States
07/09/2022
Great product/idea but;;;;;;;;;;;
Great product that just didn't work for me in any configuration. The included holster and ammo pouch (both decent quality but with the spacing of the panel squares, a bear to get good feed through of molle for just the right stability. Along with my ammo carrier, F/A kit, Gerber ID Kit and Gerber Strong Arm was a bit much for the 19'x12" panel I ordered.
Zach A.

United States
Anonymous

United States
04/29/2022
hiking
Exploring in the woods with items hanging off me is awkward. Now everything fits in the pack. Retrieval of the firearm is a snap if needed.You dont get hung up on branches etc . Good purchase.
Net Orders Checkout
| | | | |
| --- | --- | --- | --- |
| | | Subtotal | $0.00 |
| | | Shipping | |
| | | Total | |
---
Shipping Address