Customer Reviews
Joe

United States
10/15/2021
Great stuff
Works great in my Jeep, Thanks!!
Michael F.

United States
08/20/2021
Gun Mount Works Great!!
I purchased the gun mounts for use in my cruiser at work (I'm an LEO). Due to limited space, one of your panels wasn't going to work. However, I was able to mount the rifle clamps directly to the cage, and they work great!! They are easy to open, yet still hold my rifle securely in place. I would absolutely recommend this product!!!!!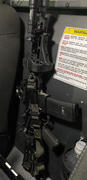 Anonymous

United States
Troy S.

United States
06/01/2021
Great Gear
Great service product performs much better that advertised
Arnie

United States