Customer Reviews
Write a Review
Ask a Question
08/31/2020
Breno D.
United States
04/15/2020
Scott H.
United States
Great product. Need more stock bass plate sizes.
Everything is awesome. However the base plate for the rifle stock is only one size so if you're running a pistol brace it won't fit and you can't secure your gun, basically making it a useless system until you get a different stock
02/19/2020
DuWayne U.
United States
Long gun locking gun mount.
After some time thinking about how to mount my long gun in my Jeep liberty, I came up with this. I purchased a vehicle gun rack from GMT. And again after some thinking about it, I can up with this. As you can see I m using a SantaCruz Gun lock on a GMT rifle rack. And so far it is working great.
01/07/2020
Cameron C.
United States
Great Quality
It is a amazing product, everything fits perfectly. Will be buying again.
10/28/2019
Anonymous
United States
Absolute love my Rigid MOLLE Panel - LE SC-6 Locking Rifle Rack
Excellent service, delivery, and product! This is my third system. While the first two were not the rigid models, and tended to bow, this unit has not disappointed. Would highly recommend for anyone needed secured quick access to a weapon wether it be for UC operations or the typical secure carry for daily commute.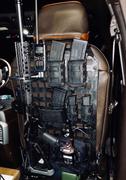 09/13/2019
Eriberto P.
United States
Good Rack for rapid deployments
I purchased this rack about 2 months ago and installed it on my takehome vehicle (2016 Ford Explorer) with no cage. This rack has made it super easy to rapidly duty rifle (11.5" BCM). I keep the rifle on the rack while on duty. Once my shift ends, I place it in the secured cage. One of the things I would improve would be a stronger material of the molly panel. I think it flexes too much and I fear it might break if pulled. The second improvement would be a better locking system. I work for a large city where vehicle break-ins are an everyday event. I lost count of how many LE's (most federal agents who just transferred ) have had their rifles stolen while in our city. The rack works great for my needs. My concern is the safety mechanisms. Overall I would recommend it.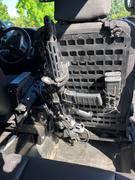 08/29/2019
Anonymous
United States
Well Done
GMT Team, Well done. The Rigid Panel is stout enough to support my relatively heavy SBR (Lewis Machine and Tool MRP.) The locking cuff is large enough to fit around the rifle with the its rail panels in place. The buttstock cup fits my Voltor EMOD stock with only a slight modification to my stock. I removed a small piece of plastic used for attaching a loop sling. The rifle is supported with no wiggle or play. Along those same lines, I was able to snug down the panel to the seat tight enough that it doesn't flop around or make any noise while driving. My one suggestion... Add more flush cup mounting holes down the side of the panel. I think It will help with fitment issues as these panels are mounted to a variety of different size seats. Again, thank you for the support. I will keep you posted as the panel sees service. V/r, Dave
Rear Divider in Jeep Wrangler
You asked me to send in pictures of my set up. I tried using these for the back of my seats in my 2015 Jeep Wrangler but wasnt very accessible and different guns require different clamps. So I decided to use them as a rear divider which turned out great. No Complaints. Thank you.
Everyday Duty Setup
Awesome product even if the buttstock holder that comes with the kit is too small. The system works great and makes for easy access of vital gear in a patrol vehicle that is already packed with equipment. The molle panel fits perfectly to the seat and the included straps hold it tightly in place. The SC-6 holds the weapon securely even with out the the buttstock holder in place. I will be purchasing the XL buttstock cup to complete this setup. Thanks for making an awesome product.
So close
I really want to love this but after busting out 7 AR's, 2 AK's and a handful of other rifles I gave up on finding a rifle that will fit the buttstock rack. The nearest I got is pictured and the rack has scraped to hell my brand new stock. Its either too narrow or too short for everything I own. A small modification to offer a wider and longer buttstock rack would reslove my only major complaint.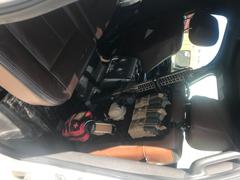 02/11/2019
Grey Man Tactical
Thank you for the feedback. The buttstock cup was based on a standard M4/AR-15 buttstock, as well as standard AK style buttstock. Aftermarket buttstocks tend to be outside these dimensions and we have had numerous customers with the same issue you are having. We are actively working on a solution to that now, please keep an eye out for an XL Buttstock Rack cup. -GMT
Rigid MOLLE Panel
Exelent experience! For every man a need!! No bastard will frighten us!
Great Product
Purchased the RIP-M with the Santa Cruz gun lock for use in an unmarked Durango. Ordering was simple. I spoke with customer service regarding the product and they were knowledgeable and friendly. The panel was easy to assemble. Installation took a little time because I was insuring that it was TIGHT. At this point, the system has been in place for a few weeks and works outstanding. The MK18 is securely locked yet readily accessible. I have not added any other MOLLE gear at this point, but will in the near future. This particular vehicle is the first one to be outfitted in this manner and we are still experimenting a little. One thing I would like to see is the option to use a timed electronic release button for the locking mechanism. Currently, the system uses a rocker switch mounted on a 12VDC plug. The rocker switch has to be held "on" in order to release the weapon. The panel can be angled so that the rifle's weight will open the gate of the locking mechanism when the lock is released, but the possibility of the rifle falling to the floorboard exists. It's not a huge problem, but something that could be addressed in future models/upgrades. This may not be a factor for many users, but for law enforcement, it may be an issue. Overall, this is a high quality piece of gear. It serves a definite purpose and its use is flexible and adaptable. Since purchasing this particular one, I have purchased another panel for my personal use. I can really get behind this product and have shown and recommended it to others.
08/23/2018
Grey Man Tactical
Thank you for the feedback. The Santa Cruz lock does ship with a push button that should be able to be put on a delay switch. This would required hard wiring to the vehicle. For our customers convenience, this does ship with a 12v push button release which is a constant on rocker button as mentioned. In our testing the SC-6 rifle lock catches when released, and has to be pushed in slightly in order to fully disengage. In our testing this prevented the rifle from falling away from the rack until manually pushed in and then pulled out. Thanks again!