Customer Reviews
Write a Review
Ask a Question
08/16/2020
Benjamin A.
United States
The best gear carrier in the market
I have been eyeing this rack for 3 years. I finally bought this back in spring, but I waited to get a good amount of use in before this review. I work in my vehicle regularly, and I spend most of my time in and around transitional spaces. I work through every down town area in my state, and with the riots going on I wanted to keep my gear staged and ready. I tried other cheaper molle racks much to no avail. Once I set this one up I instantly fell in love with it! It holds double the gear and weight with out any sagging. I use this in my firearms training, as with any gear it's good to train with before the heat of the moment. After some reconfiguration with all my vehicle gear I found just the right set up for me, and it is all thanks to grayman tactical. All in all this is a great addition those who love quality gear!
08/16/2020
Anonymous
United States
08/05/2020
DERRICK S.
United States
Love it
Upon my first inspection of the rack I loved how solid it was. It did not bend or sag when I was placing my items on it. It was easy to change it up to how I wanted it. Super easy to install/remove at the beginning and end of my shift. Will be looking to buy a second one for my personal car! Highly recommend.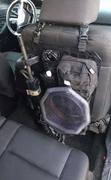 08/02/2020
Larry F.
United States
07/31/2020
AARON F.
United States
Innovative design
Fairly easy install. My only complaint is that standard molle attachments do not work ‍♂️
07/27/2020
Jerry H.
United States
Very Happy With Purchase
Very happy with the quality of my vehicle rifle rack and customer service I received. Highest compliment I can give is that I would purchase again.
07/26/2020
Cameron P.
United States
Hunting? Check. Range time? Check. Baby gear? Check
I love my vehicle rifle rack. As a hunter and someone who enjoys shooting in general, I knew I wanted this product to organize my gear. It just so happens that I just had my first child, a little boy, and I found an additional use for my vehicle mount. Mounted to the back of the drivers seat in my pickup truck, I added molle pouches to hold all of the supplies my wife and I need to take care of our son while we aren't at home. I can easily transition my setup for hunting or the range but for now it'll stay setup with all our baby gear. It's the ultimate diaper bag!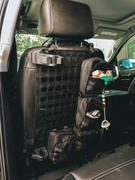 07/25/2020
Anonymous
United States
07/25/2020
Anonymous
United States
Seat back
It's a great seat back rack, only downside is if you have the plastic covers on the lower half of your seat then the rack won't mount properly. Had to route the strap over and under the actual seat. Aside from that perfect for what I need! Looking to modify more.
07/25/2020
David C.
United States
First Rate Rack
I can't express the quality and usefulness of the RMP and Rifle Rack that I ordered. The rigidity is perfect; the versatility; second to none. Order was easy, as was the installation. Shipping was fast while GMT kept me informed of my order throughout the process. Holds my AR, pouches and knife sheath all with room to spare. There's no doubt that I will be ordering a second panel.
07/22/2020
Anthony B.
United States
Awesome
I really like it. It mounts easily. I plan to upgrade to the rail mount lock.
07/08/2020
Anonymous
United States
These Racks Are Excellent..
It's a simple yet genius design, I love it.. Wish I had these when I was deployed overseas. Thanks guys
06/23/2020
Lyle P.
United States
06/14/2020
Anonymous
United States
Modern Vehicle Gun Rack
This piece of equipment is amazing. I have used it to transport long guns for camping and shooting. Its been nice to have a secured designated spot if I am taking just 1 long gun.
05/19/2020
Irma R.
United States
Awesome product
My son has really enjoyed your product. He thinks he needs more of them. Thank you
05/19/2020
Slone
United States
Awesome gear
These products are great and durable. Will recommend these products to all my friends.