Customer Reviews
Steve

United States
04/10/2021
Not just for AR platform rifles, this thing rocks
Before I pulled the trigger on buying this I had some questions so I reached out to GMT and Paul was quickly replying to me and also sent me a picture to prove he knew what he was talking about. I live in upstate NY and am not lucky enough to have all the cool tactical firearms like those of people in other states. I purchased this setup to carry a 22 Mag, and possibly one of my lever action rifles. I have yet to try and see if my longer barreled deer rifles will fit but I love the looks and functionality of this. Well designed and thought out. I believe I may add a little moleskin to the inside of the buttstock cup as I feel the top of the cup has hard right angle edges, maybe the moleskin would be overkill but rather be safe than sorry with a nice wood stock rifle. I've included pictures so you can see. 6" extension is set to the middle hole. The short barreled 22 Mag looks like this was purposely built for this system. The 45-70 does stand taller in the holder but not obnoxious and the tactical shotgun fits like a dream. As my rifles are longer than those AR platforms I couldn't use the RMP cover but a well placed sweatshirt covers this nicely to keep it hidden from prying eyes. Shout out to Paul as he has his stuff together with this product. My only complaint is that now my 15 year old son wants me to order a second one for him to use on the other seat. I would strongly recommend this to anyone and will probably have to be purchasing another. Great product
Brenden

United States
James K.

United States
01/05/2021
Just Right Rifle Rack
Great product. It fits perfectly in my Tundra and though it's a work in progress so far fits my needs. Allows for easy access to anything I place on it and provides a secure foundation for all types of vehicle and 2A essential tools. Definitely recommend this and will be outfitting the family car next.
Robert W.

United States
11/06/2020
Great product and very useful to organize stuff
Love how easy it is to use this system and perfectly fits my new 2020 Land Rover 110 seat back. I was able to move regularly used items from my go box in the back of my truck, to the mounting system on the back of the seat. It also freed up a lot of room in my go box for more stuff there. Great concept and seems very durable. Easy to mount the accessories. I put my med kit, weapon mount, knife, admin panel, mag pouches, and other tools on the RMP mount and love the new access to my regular used tools. The only downside to the system was the new platic smell that came with it when it was delivered. Paul mentioned it would go away and I left it outside in garage for a couple of weeks before mounting it and sure enough the smell did dissipate. The aluminum frame is a way to avoid that but in the end the polymer frame is very sturdy. Just need to degas it a bit for a couple of weeks. Good stuff and highly recommended.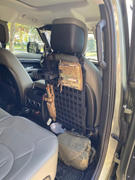 Anonymous

United States
10/26/2020
Great product
Love it! Makes carrying every day so much easier and carry some molle pouches with supplies