Customer Reviews
Write a Review
Ask a Question
11/06/2020
Robert W.
United States
Great product and very useful to organize stuff
Love how easy it is to use this system and perfectly fits my new 2020 Land Rover 110 seat back. I was able to move regularly used items from my go box in the back of my truck, to the mounting system on the back of the seat. It also freed up a lot of room in my go box for more stuff there. Great concept and seems very durable. Easy to mount the accessories. I put my med kit, weapon mount, knife, admin panel, mag pouches, and other tools on the RMP mount and love the new access to my regular used tools. The only downside to the system was the new platic smell that came with it when it was delivered. Paul mentioned it would go away and I left it outside in garage for a couple of weeks before mounting it and sure enough the smell did dissipate. The aluminum frame is a way to avoid that but in the end the polymer frame is very sturdy. Just need to degas it a bit for a couple of weeks. Good stuff and highly recommended.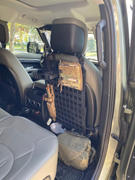 10/26/2020
Anonymous
United States
Great product
Love it! Makes carrying every day so much easier and carry some molle pouches with supplies
08/28/2020
Wade P.
United States
Vigilance
As a father and a husband, I take my role as protector very seriously. In these increasingly uncertain times, situational awareness is the first line of defense, but preparedness is the second. Grey Man products make it easy and affordable to outfit a vehicle with important tools of self-defense. They are a great combination of quality and value and I strongly recommend them. "Humans have as much capacity for atrocity as they have imagination."
08/11/2020
Jason H.
United States
08/05/2020
Raymond B.
United States
07/25/2020
Jeremy R.
United States
07/25/2020
Anonymous
United States
Backseat holder review
It won't hold a 22 rifle or hunting rifle correctly. The rubber clamps are too small. For the price it doesn't come with enough accessory holders. Quality is good, but overall I am disappointed. I bought it on a recommendation from a friend. I am not even using it at present because it won't hold my varmit rifle.
07/19/2020
Cody L.
United States
07/19/2020
Brian L.
United States
07/04/2020
Charles O.
United States
06/27/2020
Raymond M.
United States
Finally, a quality rifle mount for my truck!!
I have searched for years for a rifle mount for my truck that is sturdy, out of the way and yet I can get to my rifle quickly while in the driver's seat. I hunt coyotes and always carry a rifle with me in the truck. I don't want to have to get out of the truck and open the back door to get my rifle. This rack is well built and handy. I can reach behind the passenger seat and grab the rifle out of the rack while seated in the driver's seat. The product is well built, sturdy and I can also hang extra mag pouches on it for quick access. I hang my rain parka over the rifle and you can't tell what your looking at from outside the vehicle. If you are considering one of these don't hesitate, you will love it!!
06/27/2020
Anonymous
United States
My OCD RMP
Got a new pick up truck. But it doesn't have a trunk! Searched for a solution and found the RMP from the Grey Man! I like my items organized and clean. The panel fits perfectly on the Tacoma seat and the D Ring head rest mount is easy to remove to bring the entire panel inside house for cleaning with my gear still attached. It's also readily available and within easy reach should a situation suddenly arise. Just got the cover to keep it all as inconspicuous as possie.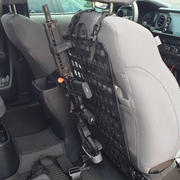 04/24/2020
Slone
United States
Cool gear
Very simple and very durable. Love the product and have recommended it to my friends.
04/15/2020
Shane K.
United States
Amazing Product!
I sincerely wish I had enough more to be able to buy these for ALL of my vehicles for both seats! Amazing quality, top notch craftsmanship, it doesn't get better than this folks. I've wanted to buy one of these for the past 5 years but I never did because I always thought they were to expensive. I can tell you right now that was a mistake! Thank you Greyman Tactical! I look forward to ordering again!!!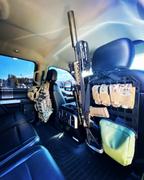 04/10/2020
Eric G.
United States
03/30/2020
Anonymous
United States
Perfect for detectives w/ unmarked units.
I'm a detective at a small agency in Georgia. After getting frustrated with having gear always bouncing around in the rear seat of my Tahoe, I ordered the RMP with a rubber clamp and the aluminum butstock cup. Installation was a breeze - couple turns of a screwdriver, snap a few fasted buckles and pull tight. The rifle is way more secure than my previous method of wedging it between the center console and front passenger seat, and I also now have a nice space to mount some med gear and a few extra mags to supplement my armor carrier and active shooter bag should things ever get crazy I'd highly recommend that you pick one up. I've got a couple of guys at my agency who are looking at the same setup, and I'm thinking about getting another RMP to manage commonly used items on the other side of the vehicle.