Customer Reviews
Write a Review
Ask a Question
04/10/2020
Jake J.
United States
03/21/2020
Eric K.
United States
Awesome product
I use on the seat back of my 2016 JK. I travel and work out of my vehicle so it makes it easy to organize all my stuff
03/06/2020
Eric K.
United States
Awesome Product
Happened across this product while watching YouTube. Product is awesome. I ordered 1 to start to see how I like it and once I put the 1 on 10min later I ordered another. It works out perfectly for all my gear that I carry and easy to set up. Instead of going long ways I put it vertical and it fits my seat back perfectly.
12/23/2019
Amber L.
United States
My boyfriend loves it!
My boyfriend has yet to put together his whole set up but he absolutely loves it! Amazing quality. Pictures will definitely be coming soon
Pelican case 1615
would definitely buy another and I still might, I installed mine on the inside of a Pelican 1615 aircase, it's more of a trunk but it holds most of my training gear as well as extra kit. There's a blend of pouches as well as Velcro wraps and shockcord. Hsgi tacos, PIG double mag pouches, Blue force gear mag pouch.
5 stars
I use one inside the cab with the top secured around the headrest and the base around the bottom of the seats connection to the powered tracks. This works good as it doesn't have to wrap around the front of the seat. Have DDM4v5 w/ a 6 mag molle pouch, SIG 229 w/ 4 single mag pouches Panel in the truck bed/cap holds a variety of molle pitches, bags, etc for camping. Attached with four carabiners to truck cap roof hooks.
10/10 worth it
Great Product! Easy to install and sturdy. The mounting style made it a breeze to install and tighten to desired height. I'm running a rip away med pouch on top for easy access Incase of emergency or the need for a bandaid. I'm also running a double rifle/pistol mag pouch for quick access. Below I set up my AR pistol build to be on the lower half of the panel so it isn't too notice able. Overall awesome product and potentially the best investment for a vehicle accessory. 10/10 worth it!
Discreetly Stores AR
I'm not law enforcement or military, just a guy that likes to shoot and stay safe. I spent a lot of time looking around on the internet for a way to safely and discretely store my AR Pistol which I keep in my 2014 Chevy Silverado Double Cab. Most options were plastic or metal boxes that sat under the seat which didn't look great for accessibility to the weapon. Once I landed on this product I liked it because it stores everything under the seat and out of sight but easy to access. The best part is that I can VERY QUICKLY transfer the whole set up to another vehicle in less than ten minutes. While it was around the same cost as the plastic boxes and much cheaper than the metal locker options I felt more comfortable dropping the money on the Grey Man product knowing it will transfer over to my next truck/vehicle. Install took about five minutes. Everything seems to be top notch quality.
06/22/2019
Nick S.
United States
Fantastic product
This panel was everything I was expecting it to be. Great for mounting a variety of different molle accessories. I went for the rifle clamps for now for my 10.5 AR pistol mounted under the back seat of my 2014 Ram 1500 Crew Cab you can't even tell it's under there when the seat is down. Also being federal LE it's awesome to see compamies provide such great equipment for stuff like this. I will definitely be buying more panels for my pelican cases and for the backs of my front seats.
06/15/2019
David L.
United States
Excellent choice!
I just recently mounted my rigid insert panel-molly, 25.75x15 on to the lid of my pelican case 1650 with positive results. With only a few adjustments, I was able to make a nice sturdy mounting outfit to accommodate multiple organizer bags, mag pouches, and other attachments securely and very neatly. Unfortunately, the mounting holes are not lined up on the bottom portion of the panel to the lid screw slots on my pelican case. However, with a few dollars worth of hardware purchased at my local store, I was able to fashion a very secure installment. I did have to drill holes through the panel, something I wanted avoid to keep the box perfectly sealed. Nonetheless, it was a minor issue since I purchased the case used and for this specific reason. I also used epoxy resin to make it a tight water seal through the screw holes. Well worth the results. I definitely foresee myself purchasing other items from this Greyman Tactical indeed!!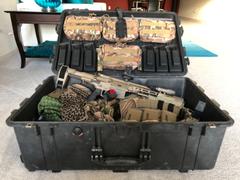 USPS
The one thing I think you should know USPS seems to hate you. Every time I order from you I get the shipping notification from you but when I try to track the package USPS says it's in pre shipment. The only way know it's about to arrive is the delivery notification I get from your outstanding staff.
Excellent product
I recently purchased a Greyman tactical rigid molle panel to put in 2017 Ford F-150. I originally was going to set it up under my rear passenger seat. But found it more useful attached to the rear of my front passenger seat. I have this panel set up to hold some molle pouches with some first aid supplies. The quality of the material is top notch and the staff at GMT is outstanding. The staff is quick to reply with any questions and concerns. I have recommended their products to friends and will continue to do so in the future. If you are looking for a molle system to mount attachments for your vehicle. This is the company to go with.