Customer Reviews
Alejandro J.

United States
S A.

United States
08/31/2020
Just right
I was looking for a way to hang my 12g over my head on my beds headboard. This product filled the bill perfectly.
Nick T.

United States
08/01/2020
It's a cinch strap
Easy on the review hounding. Products are all good. Just not jumping to respond on an elastic.
05/11/2017
Great for OCD Badasses!
I bought the Rigid Insert Panel MOLLE 15" X 25.75" along with some cinch straps and the tourniquet retention apparatus. I'm a lover of all things when they are organized and in their place. Even better when its my badass gear like life saving equipment, weapons and survival gear. Thanks for this great idea!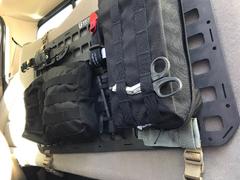 05/10/2017
Molle Panel and Velcro straps
I have two of the rigid molle panels in my Dodge Ram. One mounts to the back of my passenger seat and the other under the bottom of my folding back seat. I love the panels and their versatility. I have all of my needs mounted directly to them as a law enforcement officer.