Customer Reviews
01/30/2020
Philip G.
United States
Vehicle Preparedness Kit
Thanks to Grey Man Tactical, I was finally able to get my vehicle preparedness kit squared away. I was initially very impressed by how thin (0.188") and light the panel is. This will be especially useful if one is using the panel as a backpack insert or pack frame. I'm not a first responder, just preparedness minded, so I set this panel up general vehicle preparedness kit. I found it very easy to organize the panel, and with some thought and experimentation was able to attach a surprising amount of gear. At least one RIP panel is going to be a permanent fixture in my car from now on. Even my girlfriend wants one of her own. To organize my vehicle preparedness kit. I started with a 12.25" x 17" Rigid Insert Panel. I then placed a medical kit at the top left where it would be closest to my door and easiest to rip off the panel if I need to. I stuck shears and a CAT tourniquet to the outside to make more room in the pouch. I used a milsurp canteen cover as an admin pouch which has handwarmers, a SWAT-T tourniquet, toilet paper, 2 cliff bars, wet wipes, electrical tape, 2 pairs of pliers, screwdriver, chap stick, and a bic lighter as well as a Mora knife, a tape measure, and a cup secured to the outside. Below I have an orange safety best and another bandage. 50 feet each of 3 different weights of rope, duct tape, and wire, all secured for ready access with reusable twist ties. I also have a small 10 oz. Hammer and a siphon pump tied to the frame. On the bottom I have mounted 2 more admin pouches. One with 2 glow sticks, a flashlight, notebook, space blanket, fire starter kit, sewing kit, zip ties, toothbrush and toothpaste. The other pouch contains a pair of wool socks, beanie, white bandana, sawyer mini water filter, wetstone, extra utility knife blades, gun oil, gun cleaning patches, gun cleaning brush, and pistol rod. On the outside this pouch has a pen, sharpie, and utility knife. Along the right side of the frame I secured my Ontario survival machete and a SOG folding shovel. Not attached to the frame I have a fire extinguisher and a blanket. One of the best things about this system, I can unbuckle it from my seat, reorient the straps, and wear it as a man portable system.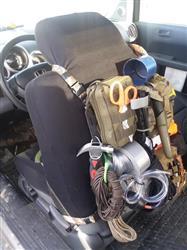 08/03/2018
Paul N.
United States
Great backpack internal support and organizer
Great item for all the loosely packed stuff that goes along with me in my pack to the range. The ability to attach numerous pouches of different sizes helps me from having to dig for them.i can easily remove the entire frame from the pack and have access to the little pain in the neck items.