Customer Reviews
Write a Review
Ask a Question
03/15/2020
Ismael M.
United States
Rigid Molle Panel
I loved this product. Especially in my 5.11 Moab 10 bag. Helped organize all my gear inside and helped distribute the weight.
03/09/2020
Anonymous
United States
01/30/2020
Alan J.
United States
Perfect for 5.11 Rush 12
This 9.25" x 17" RMP is perfect for customizing the 5.11 Rush 12 backpack. I am using small, zip front pouches from overlandtailor.com and magazine & flashlight pouches from Condor with mine. The RMP and pouches will help me better organize the items I carry daily to work along with my laptop or iPad. I can easily swap out contents if I want to use the backpack for a range day or hike on the trail. Great product.
01/18/2020
John .
United States
Great
Fits in my bag and now everythings organized and the bag has a frame to distribute weight. Winning.
01/15/2020
mohammed s.
United States
great product and excellent customer service
100% recommended
01/06/2020
Anonymous
United States
Well made
Perfect well made construction. This for perfectly in my sog ninja day pack. Really helps making the pack more rigid and helping you organize the main compartment
10/18/2019
Anonymous .
United States
Great Product
Panel with the khaki handle & green pouches goes in a Triple Aught Design Lightspeed's main compartment....17 inch is a perfect fit in that pack. (10.75 X 17in) That Panel Holds all my EDC gear / Daily Carry / Work Carry.) The Panel with the Eno fits in the 2 main compartment's of a Maxpedition Falcon 2. And the smaller panel goes in the secondary pocket on the front of the same pack. (9.25X17 & 8x12.5in) Those two panels hold all my hammock camping gear)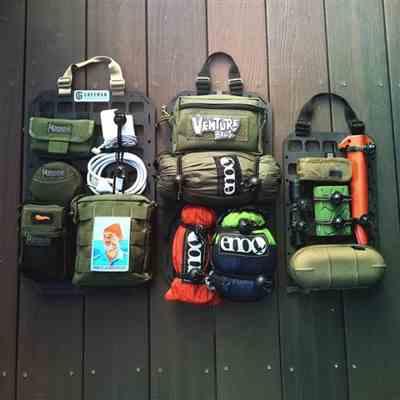 Greek Police
Greek Police I just ordered mine for a rush 12 from Tarrang, I think I ordered it correctly, the site is in French, took me forever with Google translate. To be honest with you, your panels will replace a 5.11 molle panel I have in my bag already. It's a nice product, but it is nylon and flops over all the time. I think your has an advantage being rigid. Great stuff.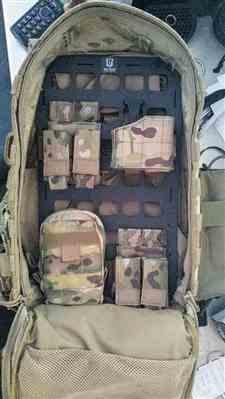 Made for LBT 14L
I've purchased 2 of the 9.25x17 panels to use in my LBT 14L Daypack and it's like they're made for this pack. I run them with a Crye GP pouch and a Velocity Dump Pouch. The pockets have perfect placement and the panel provides enough rigidness that the pack stays up on its own now. I'm super satisfied with these and have started recommending them to all the people I know with packs that's don't have frame sheets!
07/02/2019
Kuan Y.
Taiwan