Customer Reviews
Write a Review
Ask a Question
11/23/2019
Bill J.
United States
11/11/2019
Richard W.
United States
Rigid Insert Panel MOLLE (RIP-M) - 9.25in x 15in
This makes a great base platform to switch between multiple packs depending on the days agenda. I've attached a general purpose pouch at the bottom which holds a multi tool, charger, first aid and whatever I may want to add. Above that is a fixed dagger, magazine or flashlight pouch and a quick release EDC pouch for my compact 380 if carrying off body, magazine, folding knife, tactical pen and notebook. Fits perfectly in my GreyGhost Throwback and Hideout packs which acts like a frame insert and helps spread the load allowing the remaining space to be used more efficiently. It also slides in nicely into my Boundary Travel pack
09/23/2019
Brandon E.
United States
9.25x15 Rigid Molle Panel
My experience was awesome setting this panel up and installing it in my Red Rock Tactical Transporter day pack. I set this bag up as a versatile EDC/Light bug out bag. The rigid molle panel adds much needed support to the bag as well as keep my gear organized. 10/10 would recommend to anyone.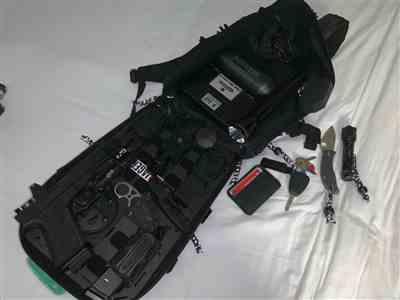 Works like a charm
Really dig the panel! The panels are stiff and works a charm when organizing your molle pouches inside your EDC bag. I was getting tired of having to go through my man purse to find what I needed and here I find Greyman-tactical, best purchase ever. Currently running the 3V Gear "Outlaw" sling pack and the 9.5x15 fits as if they were ment to be. Thanks Greyman!
Use for Geigerrig 1600 Backpack
(RIP-M) - 9.25in x 15in fits perfectly in my Geigerrig 1600 backpack. 1in Pull handle webbing helps with quick access for all my equipment attached on (RIP-M), 9mm S&W, double mag pouch with magazine, flash light attached to magazine pouch is small flashlight, middle molle pouch contains glows sticks, protein bars, batteries etc, Lg zap straps for extra cuffing attached to pouch, first aid molle pouch, & tourniquet strapped by shockloop. Extra 6" cinch strap attached to top of (RIP-M). Definitely recommend to anyone who likes to be organized & want quick access to equipment!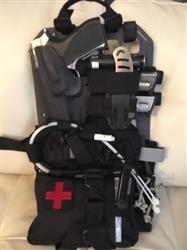 A whole new level
I found these as I was looking for a bag to carry my pistol. I wanted something that did not scream "Gun!" when I am out in public. This panel makes it so much easier to change bags to accommodate that. As long as the bag is comparable size, I have used this panel in a 5.11 bag, a Under Armour bag, and a large messenger bag. It just takes carrying concealed to a whole other level.
Great product, arrived quickly
I saw this image while scrolling through instagram, and immediately wanted one to organize my rush12 backpack. The panel works as advertised, is very sturdy to support all the items attached and hold the shape of the backpack, an overall great product. I will definitely be getting more rigid panels in the near future!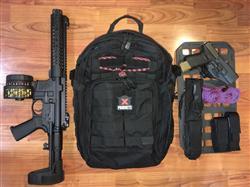 Great panel!!!!
My overall experience with the panel is great, from the design to the daily purpose it serves. You can literally do anything with these panel. Highly versatile, and easy to mount and dismount. One of the best purchases in my life!
Awesome product!
So I wanted to put a small med kit and tourniquet in my Recycled Firefighter 24 hour bag that I use everyday for work work bag. But I didn't just want it to sit at the bottom of the bag. So I bought the 9.25x15.0 in rigid molle panel. The panel fits perfectly in the front pouch. I attached the panel to the bag with some strong hook and loop. Then I attached a tourniquet on it with a bungee cord on the top and attached my Coyote Tactical STOMP towards the bottom with more loop so it would tear away. And this panel is just awesome. Now I need to buy anyone to mount in my truck.
Extremely versatile system
Discovered this product on Facebook while scrolling through. I thought it was an interesting concept and wanted to give it a shot. I bought one of their smaller panels and put it in a grey ghost gear Daypack that I've had for a long time but have not been able to find a use for. With the Molle panel inside it allowed me to organize a lot of smaller items for easy access for just day-to-day stuff. After seeing how this worked I would like to get a much larger panel for my patrol car to organize my stuff currently everything is piled into a duty bag with little organization. I want to use one of these Molle panels to organize and make it easier for me to access my gear when responding to calls.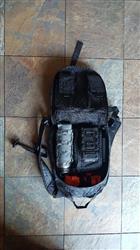 Molle panel and shock cord
Hey guys thanks again for the help. I saw your add on my news feed on facebook. Gave you guys a shot. So I ordered the 9.25in x 15in for my S.O.C 3 day pack. Should of went with my gut and got the 10.25in x 17in it would of fit a little more snug. I also got the shock cord to hold my AR pistol or the kriss vector in place. Works really good. I will be ordering more in the future. I need one for under the rear seat of the Ram and another bag. Here are some pictures I'll update as I add more. Thanks again. Great product