Customer Reviews
Write a Review
Ask a Question
05/09/2020
Clayton C.
United States
8x12.5 RMP
I love this RMP, I have an off brand sling bag I use for my EDC and CC. This RMP fit perfectly and I am able to mount my CC pistol with a double mag pouch on it using a G-Code holster. This is my second RMP I've purchased and I recommend them to anyone needing a stable rig for their gear that fits multiple applications.
04/14/2020
David A.
United States
04/02/2020
Ben J.
United States
Great
Panel with the khaki handle & green pouches goes in a Triple Aught Design Lightspeed's main compartment....17 inch is a perfect fit in that pack. (10.75 X 17in) That Panel Holds all my EDC gear / Daily Carry / Work Carry.) The Panel with the Eno fits in the 2 main compartment's of a Maxpedition Falcon 2. And the smaller panel goes in the secondary pocket on the front of the same pack. (9.25X17 & 8x12.5in) Those two panels hold all my hammock camping gear)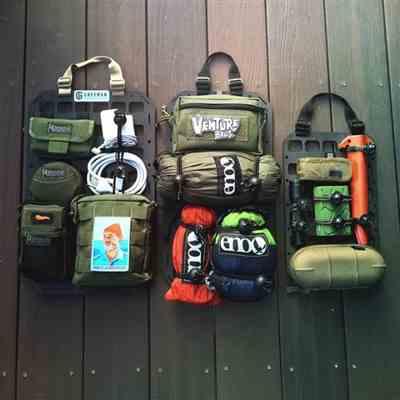 Electronics panel for EDC bag
I was looking for a rigid, modular solution for organizing the electronics in my EDC bag when I stumbled upon Grey Man Tactical. Just to give some context on what the problem is, I tend to carry multiple electronic items with me when I go out for day trips - e.g., battery pack for my phone, small Li batteries, wireless earbuds etc. At the end of the day, I would get tired of unpacking each item individually to recharge them so I decided I needed a system in which I can charge all items in a single go. This was how I ended up choosing Grey Man Tactical. In relation to other competing bag insert panels manufacturers, one aspect in which Grey Man Tactical stands out is the range of dimensions that the inserts come in, so the panels are really tailored to my gear. As seen in the photos, the panel and its contents fit snugly in my compact Orbit M100 sling bag. Although the panel itself is already a fantastic design, I adhered velcro loop strips to the entire front panel - this was the primary method in which items will be attached to the insert panel. For heavier items or items that needs to be connected rigidly to the panel (e.g., the heavy battery, or phone charging dock), I have further secured it using velcro hook/loop straps that ties around the molle openings in the panel. In terms of cable management, the panel's molle opening and velcro straps allowed me to organize the cable clutter extremely easily - this is all routed to the back of the panel and tied down. All electronics in the panel are connected to a USB Hub, from which I could plug into a wall socket to recharge everything without even unpacking anything, which has made my life much easier. To sum up, the panel has exceeded my expectations and using it has been nothing but a pleasure. I'll be looking to buy more in different dimensions as I look to outfit my other backpacks.
08/05/2019
Michael A.
United States
Best Help for EDC bag!
So it's been about a few weeks now and this panel is great I use the Flatpack for EDC. The panel helps a lot because I can put everything I need on it. But then say I'm going to do something else and need the room I just take the panel out. It also gives me a little back support keep the back more straight. Definitely I'll keep buying plan on get some more for my truck!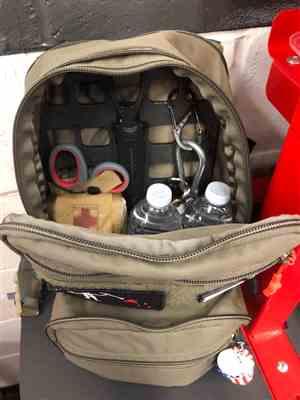 06/30/2019
John M.
United States
HSP Flatpack Setup
With the grey flatpack having no loop Velcro inside, I needed something to give structure to the pack. Once I found the right MOLLE attachments online, I was able to mount all the gear I needed for an a daily carry pack. I have a baby coming any day now and wanted a place to stash the changing gear and my EDC gear when visiting friends. I am usually carrying on me, but wanted a place to keep those items in one place. The first aid kit actually has a torniquete inside and has been enhanced for trauma and bleeding control. My thinking is to have a grey man bag that is useful for those car trips to places, or walks around the park. The G19 will not be carried normally in the bag. My truck has a fully equipped chest rig/Rhodesian to partner with this flatpack if SHTF. I was surprised at how many things I could fit in the bag with the MOLLE panel. I can now also just pull out the panel and use the flatpack for another purpose, instead of removing everything one at a time. I plan on adding a pull strap/handle at the top of the panel so that it can be hung around headrest in truck if needed. Your panel has simplified my gear setup and made it easy to access items. Great job!
Dope
Very happy with this purchase. It fits perfectly in my flat pack. I'm able to mount my holster on it along with mag pouches. And still have room for storage.