Customer Reviews
Write a Review
Ask a Question
04/08/2020
WR
William R.
United States
02/21/2020
Nigel G.
United States
8.875 X 17 RMP
My experience using the RMP panel has been excellent. I am using the Panel in a LBT Inc. 3 Day Assault Pack to organize my Field Trauma kit and Administrative Pouch. The RMP makes it easy to remove the panel, access the pouches, and replace the pouches in the pack while remaining organized and efficient. I highly recommend this product for anyone who is a first responder, or needs to keep their EDC gear organized and accessible.
11/30/2019
MS
United States
10/26/2019
Anonymous
United States
Another perfect accessory for a GoRuck!
Purchased my third GoRuck and immediately purchased my third RIP! It's the perfect way to get the most out of any bag!
08/14/2019
William H.
United States
Greyman Tactical, in a Rucker
Bought the GMT molle sheet for my GoRuck Rucker. What has the addition of it done? Made everything so much more organized. With it the way I have it set up, I'm good to go with that 20L bag for an overnight in the woods.....great "get home bag" wife got one for her Bullet Ruck.....going to get one for behind the seat and one other bag I have.... If being organized and having everything readily available is what you want, then the GMT molle sheets are what you want!!
5 stars
For starters, the pack is the GoRuck Bullet 10L. There's a MOLLE first aide pouch on the back, which was really the only organization the pack had other than the built in zipper pouches. That was my only issue with the pack, lack of organization, but it was still a cool pack. When I saw your Bullet 10L RIP-M, MOLLE panel, I knew I wanted one, but it was out of stock. So I just clicked the "notify me when available" button and within a month, I got an email from Greyman Tactical that it was back in stock. I also knew I'd just have utility and organization pouches on it. So on the RIP-M I have mounted the following pouches: small utility shingle with an admin pouch on the front, a large utility shingle with an EDC organizer and vertical utility pouch on the front. I also added your grab handle and 2 shockloops, just in case. So here's the first impression. To begin with, I was kind of surprised that my order fit in a large envelope. Once it opened, I was very impressed. The RIP-M was packaged in a heavy weight zip-lock baggie and included a nice "label" that showed the product, the size, name, and manufacturer's info on the front and description and instructions on the back. Upon pulling the RIP-M from the bag I immediately noticed how light it was, yet at the same time feeling strong, without being brittle. The RIP-M also had a cool and discreet Greyman Tactical logo on the very top. I grabbed my bag of spare MOLLE pouches and started laying them out. As I knew I just wanted removable internal organization (because I regular hike with the 20# plate in my Bullet), I started to layout my pouches. Once I determined what fit best, I started to mount them. I have to say it was a lot more difficult to mount them on the RIP-M than regular MOLLE webbing, but once I got the hang of it...NO BIG DEAL. The pouches are ultra secure on the RIP-M, but I noticed I usually could not weave the final bit of MALICE clips through the RIP-M and pouch as I normally would. Seeing as how this panel is just for internal organization and how stable the pouches are, this does not bother me in the least. I am also really happy with how the RIP-M fits inside the Bullet 10L. It's perfect. Just small enough to snugly fit inside the Bullet, but big enough to not be loose and shift around. The best part...I can still fit my normal exercise loadout (full size soft shell poncho, 3L hydration bladder, and 20# Ruck plate) and RIP-M without "over loading" the Bullet or stressing the zippers. Pretty sure I could still get more on the inside of my pack too. I have yet to fill the pouches I mounted on my RIP-M, but I already can tell this panel is a great addition to a pack I already really liked. The best part is that it just drops in. So if I don't want the extra weight of the panel or don't need the supplies and equipment on it, I just pull it out. Really looking forward to getting some practical time with this set up and trying to convince my wife why I NEED more Greyman Tactical RIP-M's and other products! Thanks for the cool product, solid communication, and good customer service! Jeff
06/12/2019
Devon S.
United States
Handy for edc
It works well for cramming my edc into my goruck bullet. It maintains the shape of the bag and gives me more control by allowing me to pin important items near the top. It also prevent everythibg from spilling out when you unzip the bag.
06/10/2019
Aaron K.
United States
RIP-M GoRuck Bullet 15L
The Greyman Tactical RIP-M panel solves all of the problems I was having with my GoRuck 15L Bullet Ruck. I love the bomb proof clamshell style daypack, but it lacked the internal organization I required to be an effective EDC bag. The RIP-M was the necessary addition that makes the bag even more capable. I am able to house my CAT tourniquet at the very top row of the panel, instead of have to dig down into the random voids of the bag (which is not something I'll want to be doing if there comes a time when I actually need it). My rain jacket and water bottle now have a dedicated location in the bag. The dispersion of items and weight in an organized fashion allow the bag to be carried more comfortably. Obviously nothing is perfect. So with that, the panel is somewhat flexible. Heavier items should be mounted lower on a panel this narrow. Reinforcement bars are available. But I would only consider that if true load bearing was needed within the pack. All-in-all the panel brings everything to the table that a simple, lightweight, organizational panel could possibly bring.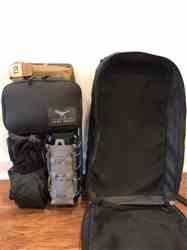 awesome rigid insert
I have a pretty simple setup for urban EDC with my sunglasses, water bottle and a few knick knacks along with a journal. Its perfect in the city. It also helps the bullet ruck have a little form. Everything feels so solid and stable. So easy to access the sunglasses. I can literally open the sunglasses compartment with one hand, thanks to the rigid insert. Prior to the molle; it was just dangling in my bag from the loop at the top. Its okay for a while, but gets pretty tedious when you are out and about in the sunshine. Thanks. I am so glad I got this. I thought it was sold out; but thankfully it was back in stock. Awesome stuff that you can trust.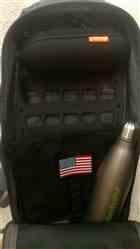 Fantastic upgrade for Goruck Bullet
The panel is made from a sturdy material and fits perfectly into the GoRuck Bullet 10L. It's light enough not to be noticeable but provides great stiffness and rigidity. I have this panel everyday in my work pack, which with my commute equates to 2 hours on my back a day. The panel makes it more comfortable as it doesn't slump, which means that items are less likely to pile at the bottom of the bag. It also means the bag will stand when placed, and not collapse onto the ground. Overall, the panel is a great addition to any bag, and I recommend it to every one with no hesitation.
Rigid Molle Insert + GORUCK Bullet = Perfect mini-range bag
I was looking for a simple solution to convert my Bullet ruck into a mini-range bag...the Rigid Molle Insert did the job perfectly! I was able to mount my holster, med-kit and two magazines with ease. If I want to use the pack for other uses, I can swap the insert out and get on down the road. Greyman Tactical delivered!
Force Multiplier!
My Gray Man Tactical insert is perfect for adding some molle attachment options to the inside of my Goruck bullet. Now it is similar in function to the GR1. Before all my stuff sank to the bottom of the billet and the bottom was fat and the top was empty, now I can utilize the whole shape of the bag. I can also easily access my iPad in the sleeve behind the insert.
Keeps my gear organized and secured in place
I love my GORUCK Bullet 10L as a camera day ruck when traveling. However, other than a few pockets, it lacks any real way to organize my gear. The Greyman Tactical RIP-M fits perfectly in the ruck. The grid provides plenty of options for finding the optimal gear layout. It's based on the MOLLE system, but I've just used velcro straps for this load out. I used velcro cable straps to secure the tripod in place. Velcro straps on the camera bag hold it securely to the panel (the bag also holds filters, batteries and SD cards. Below and beneath the tripod are rails for complex panoramas. Typically I have the camera out and hanging on the ruck's shoulder strap, but it's nice having a secure place inside the ruck for those times I want to put it away. Now my gear stays in place rather than bouncing around in the bottom of the ruck. The beauty of the RIP-M is if I'm heading out without my camera gear, I can pull the entire panel in a matter of seconds and have an empty day pack … no more emptying out multiple pockets. Or, I can easily add and remove individual items from the panel … if I'm not planning on shooting panoramas, I can easily remove the gear before heading out, freeing up room for something else.
If you have a bullet ruck … you need this panel!
This is actually my second panel for the GoRuck Bullet! Why I have two? Well becauseI have the two panels pre-loaded in different configurations and grab the one I need each time! This is a medical configuration panel. It is VERY sturdy to the extent that I am wondering if it could work as an improvised splint! Currently it has a med pouch from ITS two from Blue Force Gear (multitool and flashlight and a small GP pouch) and one from HSGI (tourniquet and scissors). I have some other stuff mounted with the shock cord thingy I bought from Grey Man Tactical as well. Why I believe its essential? Well the Bullet even though it is a great little pack it lacks internal organisation, so I use the Grey Man Tactical panels for that. If you have a bullet get one … or three!