Customer Reviews
Write a Review
Ask a Question
01/30/2020
Philip G.
United States
Vehicle Preparedness Kit
Thanks to Grey Man Tactical, I was finally able to get my vehicle preparedness kit squared away. I was initially very impressed by how thin (0.188") and light the panel is. This will be especially useful if one is using the panel as a backpack insert or pack frame. I'm not a first responder, just preparedness minded, so I set this panel up general vehicle preparedness kit. I found it very easy to organize the panel, and with some thought and experimentation was able to attach a surprising amount of gear. At least one RIP panel is going to be a permanent fixture in my car from now on. Even my girlfriend wants one of her own. To organize my vehicle preparedness kit. I started with a 12.25" x 17" Rigid Insert Panel. I then placed a medical kit at the top left where it would be closest to my door and easiest to rip off the panel if I need to. I stuck shears and a CAT tourniquet to the outside to make more room in the pouch. I used a milsurp canteen cover as an admin pouch which has handwarmers, a SWAT-T tourniquet, toilet paper, 2 cliff bars, wet wipes, electrical tape, 2 pairs of pliers, screwdriver, chap stick, and a bic lighter as well as a Mora knife, a tape measure, and a cup secured to the outside. Below I have an orange safety best and another bandage. 50 feet each of 3 different weights of rope, duct tape, and wire, all secured for ready access with reusable twist ties. I also have a small 10 oz. Hammer and a siphon pump tied to the frame. On the bottom I have mounted 2 more admin pouches. One with 2 glow sticks, a flashlight, notebook, space blanket, fire starter kit, sewing kit, zip ties, toothbrush and toothpaste. The other pouch contains a pair of wool socks, beanie, white bandana, sawyer mini water filter, wetstone, extra utility knife blades, gun oil, gun cleaning patches, gun cleaning brush, and pistol rod. On the outside this pouch has a pen, sharpie, and utility knife. Along the right side of the frame I secured my Ontario survival machete and a SOG folding shovel. Not attached to the frame I have a fire extinguisher and a blanket. One of the best things about this system, I can unbuckle it from my seat, reorient the straps, and wear it as a man portable system.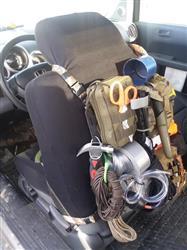 Great backpack internal support and organizer
Great item for all the loosely packed stuff that goes along with me in my pack to the range. The ability to attach numerous pouches of different sizes helps me from having to dig for them.i can easily remove the entire frame from the pack and have access to the little pain in the neck items.
Great gear!
This molle panel works excellently for my purposes. I have it set up behind my drivers seat with all the essentials to get home. I run a blow out/Med Kit, HSGI Drop Leg Panel with ammo/RAT TQ/SF G2X, and a set of gloves. The quick fist mounting system is great for my 10.5" Pistol which is secured with heavy duty chain/padlock and maglock as well. My philosophy of use, is to have a side arm on me at all times, and If i need to get to the rifle, I will have time to defeat the security measures. I initially had the switch clip buckles attaching both the top and bottom straps to secure to the seat, but subsequently have moved to using a small piece of paracord threaded through the holes on the top to make an effective upper support system. I found that the buckles tended to loosen up overtime. Overall, I have been extremely pleased with this product and plan to buy a second set within the near future.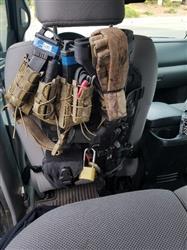 03/24/2018
SD
Scott D.
Solid product, some customization required
I purchased the RIP insert to assemble a modular medical kit for my 20L Goruck Rucker which I use as an all-purpose pack. The 12.25 x 17 RIP-M panel was a bit wide at the top where the Rucker tapers inward, so I trimmed the panel with a coping saw. It probably would have fit a 26L GR1 perfectly. I mounted a 5.11 Tactical #58715 Medical Pouch with general first aid items, an ITS Tactical Tallboy with a blowout kit, a Hazard 4 PCH-TRQ-CYT Tourniquet Pouch with a CAT-5, and a 5.11 10x6 utility pouch for larger items (e.g. Sam Splints, CPR mask, etc). The panel is very rigid and pouches with built-in MOLLE straps didn't fit very well. Blackhawk Speedclips were too tight for most pouches. MALICE clips worked but were really snug. I had the most success using the "Fight Light" Series Malice Clips from Tactical Tailor which are very flexible and definitely strong enough for this application. All in all, the RIP series is a solid product and provides a great platform that you can use for innumerable applications. #happy_customer
12.2 x 17 Rigid Insert Molle for Photography.
Fantastic. I can attach my video tripod to the molle. That way I don't have a heavy object 'poking' wear, tear, and a hole in my Code 20 pack. I have some molle containers attached to the insert. If I need a different lense or neutral density filters, I just 'pull' the medical kit off the rigid panel and put the neck trap I attached around my back. Makes it very easy to carry & access photography gear without having to dig through a big pile in my pack. This is one incredible piece of gear. I am telling all of my friends about it.
Rucker pack carrier
I am using the panel to augment the Rucker back pack from GORUCK. The rigid panel fits perfectly.
Fantastic travel backpack organizer
I am very satisfied with my Rigid Insert Panel. I purchased it to create a custom insert for a travel backpack I recently purchased to carry my gaming computer on business trips. Since the main compartment of that backpack only had an a pocket for the computer, I needed a way to compartmentalize gadgets so they would not bunch up and make it more difficult to slide under an airplane seat. Your panel proved to be a great platform for attaching 3 molle pouches. In addition, I molded a custom kydex retainer to hold the computer power supply. Drilling holes in the kydex retainer and panel was easy as was attaching it to the rigid insert panel with holster rivets.
Great Product for Keeping Things Organized
I use this product to hold some stuff that I would normally have just thrown on the floor of my truck. It really helps keeping things in place and easy to find. The product was easy to install and is very sturdy. I ordered two 12.25inx17in panels and put them side by side to fill up the empty space behind my back seat in my truck since there was no one size that could do that. I have it on a 2014 Ford Ranger. I was able to mount a smittybilt molle pouch but not much else because the space I have behind my back seat isn't much so that's nothing to do with the product. I am loving the product so far and it held up well in my recent off roading trips where I had it on. No rattling and nothing fell off. I will definitely be ordering again and recommending this to others.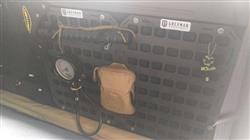 RIP=M
Fine piece of work. Fits perfectly in the pack I wanted it for. Sturdy enough for the 2 TT med pouches I have on it. I have a few Vanquest tool pouches, and one of the TT First Responder pouches for my next project. I have a couple Pelican Cases I am looking to rework and your site has given me some great ideas. Appreciate the product and look forward to getting more.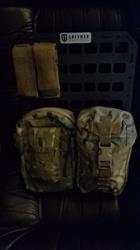 Rigid Insert Panel MOLLE (RIP-M) - 12.25in x 17in
I'm a full time tactical team member in one of the largest agencies in the southwest. I purchased the Rigid Insert Panel to help keep my vehicle interdiction/rescue equipment in order, inside my duty vehicle. Love it! I have a ColdFire Defense Extinguisher,Med Kit and Hammerspike and Minispike Tools attached. I can mount to the rear of my front passenger seat or throw in my Vertex backpack.