Customer Reviews
Write a Review
Ask a Question
01/15/2020
Anonymous
United States
Rig
Great product and exactly what I was looking for. I would highly recommend this to anyone looking for a molle rig system to carry one's gear.
10/13/2019
David H.
United States
Tactical Film Crew
This particular insert goes into the Recycled Firefighter 24 Hour pack with the vertical zipper in the front panel. The insert fits in the bottom as a way to keep the pack rigid when it lies horizontally in my chair. I do have a couple molle pouches coming for multi tool, 3/8 rachet and a small selection of sockets. I don't have them attached yet. The insert fits and gives the support I needed.
Great
Panel with the khaki handle & green pouches goes in a Triple Aught Design Lightspeed's main compartment....17 inch is a perfect fit in that pack. (10.75 X 17in) That Panel Holds all my EDC gear / Daily Carry / Work Carry.) The Panel with the Eno fits in the 2 main compartment's of a Maxpedition Falcon 2. And the smaller panel goes in the secondary pocket on the front of the same pack. (9.25X17 & 8x12.5in) Those two panels hold all my hammock camping gear)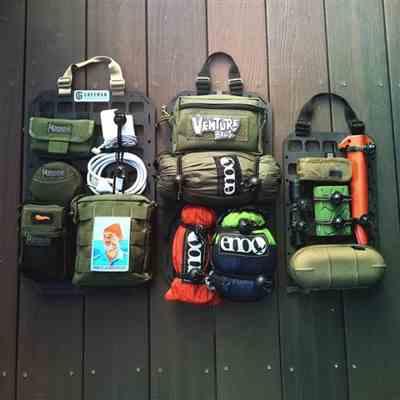 Perfect!
Just wanted share some photos of my first order with you guys. The Rigid Molle Panel is perfect! I'm currently using it in my 21L Goruck GR1 and it really helps a lot with organization. I love that it keeps the backpack rigid and by keeping all my stuff dispersed well around the pack. No more sagging lump at the bottom of the pack with that odd space up top. Thanks a ton for this awesome product!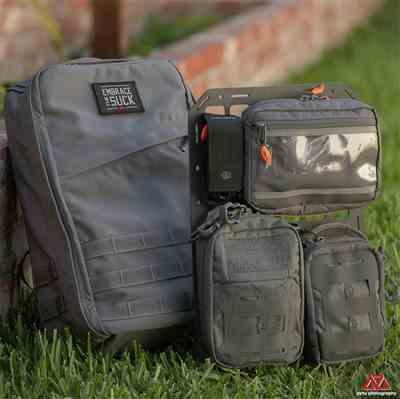 07/10/2019
Jose F.
United States
Great backpack organizer
Used panel to organize spare magazines, accessories pouch and IFAK for my sub 2000 pack.
Perfect fit,...
I ordered this specifically to add more structure and organization/layout to my bag (5.11 Rush 24). Since receiving it I have tried several configurations and love how easy a simple board that is the proper size/shape helps in this matter. On a side note it helps my bag stay upright instead of leaning over (which is one of the two things I REALLY hate about my bag). This helps resolve the leaning issue for the most part as well as makes important to me items, easily accessible, not just ON the RIP-M, also within the bag in general. (No more digging through all the other stuff I have in it.) Additionally, the RIP-M with the attached grab handle makes this item easily removable, thus a good way to quickly get to attached items quickly in an emergency such as for my IFAK and Trauma kits.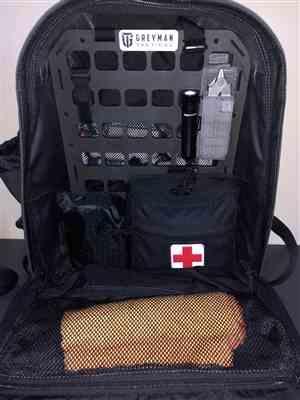 05/29/2019
JB
Josh B.
Rigid Insert Panel MOLLE (RIP-M) - 10.75in x 17in
Overall I really do like the RIP-M that I purchased. For my needs it worked out pretty well. It can be tricky to get some MOLLE pouches to weave and fit up tightly (which is always desirable). This holds true with "knock-off" imitations of popular gear makers, or off brands too. I had some frustration with some smaller pouches that were 2 MOLLE wide. TT Malice Clips worked decently too. However once you do work out what fits right, the RIP-M panel is firm and rigid enough to hold a respectable amount of weight. My kit is running two large (black) general purpose pouches (from Academy), a small pouch from ITS Tactical, and a lock picking pouch from Sparrows. All that in the main pocket of my Vertx EDC Ready backpack. I think this thing works pretty well, especially if the inside of your bag/pack doesn't have MOLLE webbing or enough inner pockets!
GMT for GoRuck GR1
The Rigid Molle Insert Panel was a great purchase. The fit and finish is perfect for my 21L GR1 backpack which I use as an everyday carry. It allows me to organize all my gear from pocket organizers to tools, conceal carry and other miscellaneous items, even my hydration system. I couldn't be more happier about this purchase and would highly recommend this product to family and friends.
Customization Is Endless
I ordered this to add some structure and layout for my Mystery Ranch 3DAP and I was not disappointed. Currently, I just have an admin pouch and a Leatherman attached to it with plans to expand with an IFAK and utility pouch. I keep playing around with different loadouts and pouches and the possibilities are endless. I wholeheartedly recommend the RIP-M if you're looking for organization and some rigidity to your pack.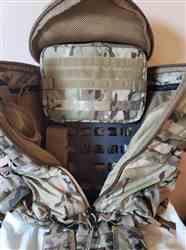 Awesome piece of Kit!
I ordered this panel to be able to develop a quick and easy setup to make my GORUCK Rucker into an organized minimalist camping/hiking pack. First things first, the panel is the perfect size for the 20L Rucker, it fits in nicely without any room to move around. It's set up with my cooking kit, a clothes bag, a folding saw, a pouch with my water purification items, rain gear, leather gloves and an IFAK pouch I purchassd on amazon that I use for all my first aid/hygiene, cordage, fire kit and other essentials. Even with all that there is still a little space for a day or two worth of food in my Rucker. I put one inch strips of Velcro across all the horizontal Molle rows, I did this on the front and back for patches or any other items that I could quickly Velcro to the rig. I also ran a few stands of shock cord through the panel to hold my cooking kit and clothes bag in place. This panel exceeded all my expectations and has been an excellent addition to my kit. It has me looking for my next project so I've got an excuse to buy another one! Well done!