Customer Reviews
Write a Review
Ask a Question
12/11/2019
Matthew H.
United States
Very happy
PERFECT FIT!  This panel is sturdy, can obviously take some abuse (which I am bound to give it) and likely to last a long time.  You can see my armor just behind it there and I did not have to sacrifice anything to get it all to fit: In fact, I could now fit more things and in the future create what I'll call "Threat Level Boards" allowing me to select a load-out in a hurry to address varying environment using the same bag.  I am sure I will be purchasing more products from Greyman Tactical in the future.  Their quality is simply the best, their personal touch, their attention to details and their reasonable prices.  It may not look organized to you but hey, it's my organized mess.As you can see I am very happy with Greyman Tactical.  I feel more confident now when I reach into my bag.  Now, I know exactly where everything is all the time which leads to efficiency and safety.  I do not know how I was operating without it.  I also hope this helps someone else with an ECHO bag from GORUCK figure which Panel to purchase or give them an alternative option.    Cheers, NSOS
09/22/2019
Tyler F.
United States
5 stars
As promise i send you the photo of my setup, is a simple back seat first aid and water bottle holder tuck in back seat map holder stabilized with paracord. It can be left here even when a passenger take place. It's a simple, small but effective product. I probably check to adapt my second back seat soon. Have a nice day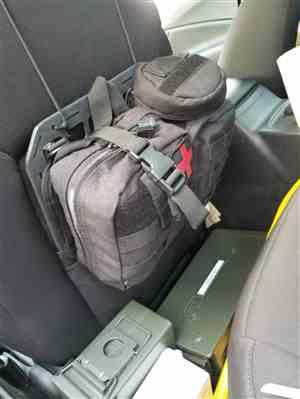 Perfect for LEOs
This is my initial set up with the RIP-M 10.75"x15" (RIP-M). Fits perfectly in my backpack, which goes with me everywhere as a Federal LEO. Great product and I'll definitely be purchasing additional items for work/personal use.
efficient
The setup is: Kelty MAP 3500 Backpack (2) 5.11 Ignitor 6.5 pouches (1) Maxpedition Beefy Pocket Organizer (1) Fenix LD22 Flashlight (1) 10.75" x 15" Panel w/ handle The greyman-tactical rigid panel - gives stiffness to the backpack. It makes more efficient use of space when the backpack is worn, and distributes the load more evenly. To store my gear I had used luggage packing cubes that would lay at the bottom of the sack when worn. Now, the two 5.11 pouches give me approx 200 cubic inch of space stored vertically, instead of around 180 cubic inch of space that was laying at the bottom of the sack. This is my first purchase from them, and I'll be purchasing more panels in the future. Andrew from NY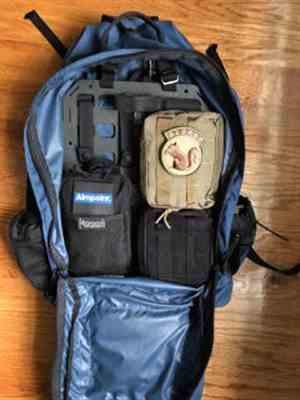 5 stars
I finished putting together my "bag" this weekend. It is the one I intend to carry in my personal vehicle and off-duty. I am working on another for duty carry and will share when it is set up. Regardless, this is what I came up with for off-duty. The bag is a standard 5.11 Rush backpack. I have set it up with a 7" 5.56x45mm pistol, a spare 30 round 5.56 mag and a spare Glock 17 mag for my pistol. There is a spare flashlight and two CAT tourniquets as well. Also, there is ample room for additional personal items in the other compartments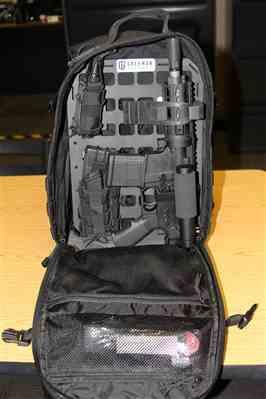 High school teacher conceal carry
Just wanted to share my setup. Thanks for making a great product. Haley flat pack plus with your rti and scorpion backers. I have a Dfndr armor plate behind the panel. I'm a teacher/coach in a state that allows us to carry. It's great to be able to switch to off body carry especially when I'm on the field coaching and still have a reliable and repeatable draw. I've experienced an active shooter situation at my 2,100 student high school and my principals and student's parents were grateful that several teachers in the school were prepared and willing to protect their kids. Thankfully no one was hurt in the end. Thanks again.