Customer Reviews
Daniel A.
United States
01/15/2021
Shockloop
Out of the package my first thought was how nice the quality was top-to-bottom. The elastic cord is no joke! I'm confident it'll hold some of my more medium weight gear. The pair I purchased is currently holding a flashlight to my molle rack. Easy to mount, easy to release!! Highly recommend this product.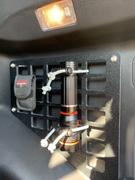 Robert W.
United States
11/24/2020
Great retention band
Great and easy to use shock loop on the RMP platform. I am using it to secure two different glove types. should work very well securing different types of gear.
Eric W.
United States
PP
Paul P.
United Kingdom
08/10/2020
Superb kit organsition solution
These shock loops are a superb solution for kit organisation using an RMP. Perfect for items the need to be regularly detached. The 12" loops are ideal for Nalgene size bottles, the 24" for pouches. The lock springs are strong enough to grip the elastic even when under a lot fo tension.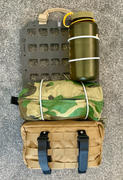 Anonymous
United States
05/02/2020
My order
So far it's been flawless I've bought a few items for my truck and all pieces are beyond perfect. Each product I own interacts with other companies I've bought from.